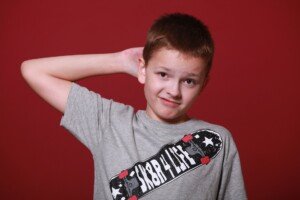 Your "angel" of a child may actually be a demon who's bullying his or her younger sibling, but crafty enough to keep this hidden from you, unless you know the signs to look for.
Don't assume your child isn't bullying a younger sibling until you go through this checklist.
Will parents always pick up on the signs that one of their kids is bullying a younger sibling?
I know a man who says when he and his brother (who's only 11 months younger than him) were very young, they were babysat for by their older brother (older by four years), and from what he tells me, he and his younger brother were bullied by the older.
"Every time our parents put him in charge and left the house, he'd beat us up. Then he told us if we ever told on him, he'd do it again next time he was alone with us."
His parents never learned of this, and never suspected it. But it happened repeatedly.
"The issue of sibling bullying is not talked about nearly enough with parents, or in the media," says Dr. Marilyn Benoit, MD, Chief Clinical Officer and SVP of Clinical & Professional Affairs of Devereux, which is the largest not-for-profit behavioral healthcare organization in the U.S.
Dr. Benoit runs a family practice as a child and adolescent psychiatrist.
"In fact, in many cases, parents do not realize that their younger child is being bullied by an older sibling," says Dr. Benoit.
"I have seen this in family friends and in my patients where the older sibling takes on more of a parental role when both parents work / travel long hours, or in single parent households."
Signs a Child Is Bullying a Sibling
Dr. Benoit provides five signs that parents can be alerted to that may strongly indicate that sibling bullying is taking place.
Parents witness sibling fearlessly and continuously taunting a younger sibling through derogatory name calling or language.
Parents see a lack of empathy by the older sibling that's not just teasing, but constant and chronic.
The younger sibling appears to have anxiety or depression. He or she may seem to be hyper-vigilant or withdraw, especially around the older sibling.
Parents notice the younger sibling prefers to be around them when they are at home, signifying that they are seeking protection.
The younger sibling may act out when parents leave them alone with an older sibling. This acting out may be inconsistent with their behavior in other settings.
Sometimes, signs of sibling bullying may not be so obvious, but more subtle, but keen parents should still detect them.
"Parents should look for these signs and be suspicious about changing behaviors before and/or after older siblings are alone with younger siblings for extended amounts of time," explains Dr. Benoit.
"It's important for parents to intervene when any of these signs are realized."
Dr. Benoit is past president of the American Academy of Child and Adolescent Psychiatry and has provided Congressional testimony on issues including child abuse, teen pregnancy and youth suicide.
Lorra Garrick has been covering medical, fitness and cybersecurity topics for many years, having written thousands of articles for print magazines and websites, including as a ghostwriter. She's also a former ACE-certified personal trainer.