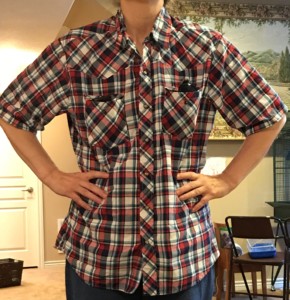 Here's how to hide the JP drain bulbs from family members or anyone else whom you do not want to know of your double mastectomy.
I recently underwent a prophylactic double mastectomy, and my plan is to keep this information from my parents, brother and sister-in-law.
The later two, plus their three kids, are temporarily living with my parents.
If they ever found out, I can't put it past them that sooner or later the secret would be leaked to my father, who'd then tell my mother.
At the initial consultation for the preventive double mastectomy, the nurse gave me a JP drain bulb mini apron with pockets to put the bulbs in.
The problem is that the apron creates bulk under my button-up shirt. Family members will know that "something is under there," or at a minimum, they'll take to looking at my midsection, trying to figure out why the light fabric shirt is billowing out.
I don't sew, so a do-it-yourself mini-mini holder is not an option.
At the time of the preventive double mastectomy I knew that six days later I'd be driving my father to a doctor appointment and seeing my mother, brother and sister-in-law.
And that I'd still have the JP drains in.
I wore sweat pants and safety-pinned the bulbs (which came with a tag built into them to attach a pin to) to the pants.
However, this took some adjusting to make sure that my shirt concealed the bulbs.
Key Points for Hiding JP Drainage System from People
• Wear a shirt that's several sizes too big. Prior to the surgery I purchased three XL MEN'S button-ups from the Army Surplus store.
• Try the shirts on before purchasing. Though the shirts are all the same brand, one of them has snaps and not buttons, and for some reason it's bigger than the others even though all three are XL's.
• After pinning the drainage bulbs to your sweat pants, sit and see if the bulbs stick out from under the shirt.
• If they do, re-pin higher. Experiment with different locations to get things as concealed as possible.
• Sit as you would if driving, and see if the bulbs are visible to your passenger (if you plan on driving someone while still with the drains in place).
• Ideally the shirts will have pockets to put things in to conceal your flat chest.
• Prior to the surgery I was less than an A-cup, so concealing my new "flatness" wasn't hard at all: sunglasses, cell phone, tube of lip balm, wallet, etc., can be placed in the pockets to create the illusion that "something is still there."
When I was driving my father, I periodically checked my inner thigh area, where the JP drain bulbs were wanting to settle.
It was easy to position my baggy shirt over them and tuck the shirt underneath them to keep the shirt from pulling away.
When I was at my parents' house seated beside my father I simply placed my hands there or had my legs crossed.
But don't let your guard down. At one point when I was drawing a diagram for my father for some strength training exercises I'd had him do – and he was watching me draw – I then noticed that from his position, one of the bulbs was visible!
Thank goodness his eyes had been on my pen. I promptly crossed my legs.
Don't assume you must tell people you don't want to know about your double mastectomy because you think you'll never be able to hide the JP drains. Yes, you can!
Lorra Garrick is a former personal trainer certified by the American Council on Exercise. At Bally Total Fitness she trained clients of all ages for fat loss, muscle building, fitness and improved health.