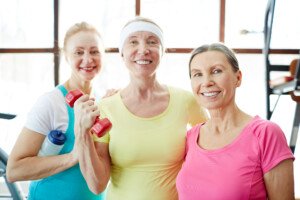 What may be the best cardio exercise for postmenopausal women offers not just fat loss and improved cholesterol, but also stronger bones and legs.
If you're thinking running, think again.
If you're thinking Zumba, think again.
And no, it's not spinning or swimming. Best cardio
A study in the Feb. 2018 online journal Menopause recommends stair climbing.
BUT WAIT … there's more to this than simply using the staircase in your house for the sole purpose of transporting from one level to another.
A stairclimbing workout is not automatically built into your life just because you have a staircase in the house.
How Much Stair Climbing Is Beneficial to Postmenopausal Women?
The study involved postmenopausal women who climbed 192 steps – two to five times in a single day, four days per week.
This is significantly more steps than what you'd normally climb in just the routine activities of day to day life inside a house with a staircase.
The study concluded that going up the steps led to reductions in blood pressure and arterial stiffness, along with increases in leg strength, in postmenopausal women who had high blood pressure.
Walking up all those steps also provides an effective cardio workout.
Exercise Ideas on the Steps
When I was a personal trainer at a large gym, I'd have my clients going up a staircase, but only one to three times, and the staircase had about 30 steps.
For very out of shape women, briskly marching up this staircase just once made them huff and puff.
For fitter women I'd have them holding, with straight arms, weights. Or, I'd have them climb two steps at a time or dash up the steps as quickly as possible.
For athletes, you can bunny hop up a flight of stairs, though this does require some agility or you'll stumble.
For trained women who thrive on strenuous routines, grab a pair of 25 pound plates or kettlebells (hold them with straight arms) and go up a single staircase as fast as possible. At the top you should be very winded.
Rest one to two minutes and repeat two or three more times for an abbreviated but highly effective interval cardio workout.
Postmenopausal women, be they out of shape, overweight or fit and looking for a new mode of cardio exercise, should try stairclimbing.
But the key is to avoid thinking that normal staircase use in the course of the day is sufficient for an effective cardio workout.
Lorra Garrick is a former personal trainer certified by the American Council on Exercise. At Bally Total Fitness she trained clients of all ages for fat loss, muscle building, fitness and improved health. 
.
Top image: Freepik.com, pressfoto
Source: sciencedaily.com/releases/2018/02/180214093842.htm
postmenopausal women best cardio exercise