If you're thinking of enrolling your overweight young daughter in ballet classes, you may want to abandon that idea and consider martial arts.
Though ballet comes with it an association of glamour, glitz and fairy tales, do not let this cloud your judgment.
My Inspiration
I have had a lot of martial arts training over the years at different schools. I am also an expert in fitness, obesity and weight loss (former personal trainer and group fitness instructor).
In addition, I was inspired to write this article after reading a post in a forum by a mother who was very upset that her chubby young daughter's ballet classmates were ridiculing her size, and the moms of those students were asking questions about the little girl's weight.
Damn! Can a child EVER escape judgement for her weight? You'd think that in a discipline as strict as ballet, there'd be no ridicule or judgement.
Okay, you have to expect that other moms, plus the students and even the instructor, will wonder how much an overweight child will progress in ballet.
But keep in mind that ballet classes, traditionally, do not emphasize a "no judgement zone."
Martial Arts: No Judgement Zone Galore
On the other hand, any high quality martial arts school will let you know upfront that bullying and ridicule are prohibited, and individuality and acceptance are encouraged.
I don't know how many ballet schools offer outside activities for their students, but high quality martial arts schools are known for this: pizza nights, movie nights, bowling parties, hikes, etc.
Martial arts schools offer an opportunity for obese or overweight children—who feel judged and even ostracized at regular school for their weight—to feel a strong sense of belonging and fitting in with other kids!
Ballet vs. Martial Arts Lessons: Comparison of Difficulty Learning
There are elements of ballet that would be extraordinarily difficult for an overweight child to learn — simply because that child is carrying too much body weight. Ballet is demanding enough even for thin little girls.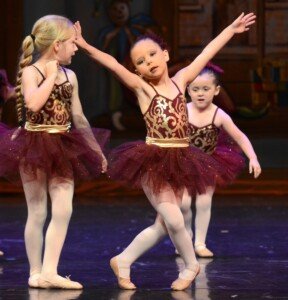 Sure, at the beginning, everything will seem equal, but as lessons progress, the difficulties caused by the excess body weight will become increasingly relevant.
But in martial arts, being chubby is not an impediment. In fact, if your young daughter meets the criteria for obesity, she can still progress significantly in martial arts.
Before you think, "Hey wait a minute, my fat child can't be leaping through the air," keep in mind that leaping and "flying moves" are popularized in films.
In real life martial arts classes, some instructors don't emphasize aerial moves. Other instructors will teach them to students who want to learn these.
And yes, it will be more difficult for a fat child to execute a flying side kick, but by the same token, that skinny kid who can fly like a butterfly may also flounder when it comes to board breaking – something that your very overweight daughter can excel in!
I have seen fat little girls and boys win trophies at karate tournaments. There are many different facets of martial arts training, which is why no particular body type excels!
I've seen very stiff legged thin kids. I've also seen fat kids who could do the splits and kick high.
There's also grappling-style martial arts, for which being overweight is not an impediment, and may even be an advantage.
And then there's kata, also known as forms or patterns: choreographed moves in which the practitioner defends herself against imaginary multiple opponents.
At a tournament, a heavy child can take first place in the forms division for their particular rank. I've seen it happen, and it happens all the time.
They can also take first place in the sparring division, also known as point fighting. Some tournaments have board breaking competitions.
Now I'm not saying that children's martial arts should be all about tournaments and winning trophies.
But tournament competition fosters self-confidence and teaches fat children that obesity doesn't have to get in the way of athletic participation!
Some martial arts schools do NOT involve tournament competition, and that's perfectly okay, too. Kids, including overweight girls, will still develop self-defense, self-confidence and learn to use their bodies in impressive ways.
THE SUBJECT OF WEIGHT WILL ALWAYS BE PRESENT IN BALLET CLASSES
In ballet, let's face the truth: A chubby girl will feel very discouraged and judged. In martial arts, a heavy body is not an obstacle to excelling.
Of course, an eight-year-old who weighs 200 pounds is going to have problems with just about ANY sport, but I'm talking about the average overweight or even clinically obese little girl (or boy).
It's a hardcore fact that weight IS an issue with ballet. There's no way around it. Ballet is a discipline in which chubby students, especially as they get older, will be told they need to lose weight.
But in a high quality martial arts dojo, children will never be told, "You have to lose weight."
In fact, this hardly happens at ANY martial arts studio, because the instructors know that (can't say this enough) being heavy is not an impediment to executing a forceful kick, upper body strike, joint lock technique or grappling move.
When it's time to break boards, spar, slug at a heavy bag, strike at mitts held by an instructor, perform a kata, grapple on the floor or learn self-defense techniques…WEIGHT DOES NOT MATTER!
What if your overweight daughter is begging for ballet lessons?
Certainly, you don't want to tell her, "You can't take ballet lessons until you lose weight."
But the bottom line is that if your overweight daughter has not mentioned anything about ballet lessons, you should vehemently consider the possibility that getting her involved will result in ongoing pressure to lose weight, rude comments from other parents, plus possibly ridicule from classmates.
You will not find this adversity in a high quality martial arts school. And if you want her to take ballet lessons for weight loss, here's a news flash: Martial arts will be far more effective at this.
Lorra Garrick has been covering medical, fitness and cybersecurity topics for many years, having written thousands of articles for print magazines and websites, including as a ghostwriter. She's also a former ACE-certified personal trainer.
.
Top image: Shutterstock/Yuriy Golub