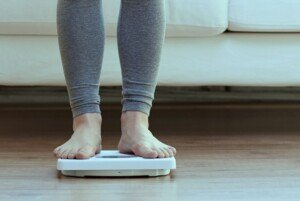 If you're overweight even by 30 pounds and think you're healthy due to normal blood work, you still should lose weight because down the road, your excess fat may catch up to you and cause health problems.
Just 30 Pounds Overweight
The May 2018 Journal of the American College of Cardiology has a report warning that those who are 30 or more pounds overweight should make efforts to slim down, even if their blood pressure, cholesterol and glucose levels are normal.
The researchers explain that a little under half the people who were at least 30 pounds overweight developed metabolic syndrome within the 10 years that their blood work was measured as normal or the so-called healthy.
It may seem that some people with clinical obesity are actually healthy — as far as what a routine physical turns up.
The Big Question
However, how long will they stay that way — metabolically healthy?
"You may be healthy now, but over time the stresses on the body accumulate and the abnormalities will gradually worsen," says Susan L. Besser, MD, with Mercy Medical Center, Baltimore; Diplomate, American Board of Obesity Medicine and board certified by the American Board of Family Medicine.
Thirty pounds of excess weight today may become 50 pounds of excess weight in a few years.
And then before you know it, you could be carrying 70 pounds of excess fat.
What is metabolic syndrome?
Think high blood sugar, high blood pressure, a poor cholesterol profile and excess belly fat.
These features double the risk of cardiovascular disease. They also up the risk of type 2 diabetes by five times.
So you may be metabolically healthy NOW … but what about 10, and especially 20, years from now?
The Study
The over 6,000 participants in the study were followed for 12 years. Over the course of the study, nearly 50 percent developed metabolic syndrome.
The researchers wanted to see if the progression was tied to a higher risk for heart disease. And it was.
This means that if today, you are metabolically healthy despite being at least 30 pounds overweight, this should not be taken as a stable or reliable indicator of future absence of cardiovascular disease.
The study was not able to determine which 50 percent would progress and which wouldn't — only that 50 percent DID progress to the metabolic syndrome.
What should you do if you're only 30 pounds overweight?
Cut back on sugary and processed foods.
Listen to your cues to eat. Are many based on non-hunger situations such as being offered food, seeing others eat or watching TV? Say no or eat fruit.
Do you do both aerobic exercise and strength training?
Make sure that 30 pounds of extra weight doesn't get higher, and in fact, strive to lose some of that anyways to put yourself ahead of the game.
Dr. Besser provides comprehensive family care, treating common and acute primary conditions like diabetes and hypertension. Her ongoing approach allows her the opportunity to provide accurate and critical diagnoses of more complex conditions and disorders.
Lorra Garrick is a former personal trainer certified by the American Council on Exercise. At Bally Total Fitness she trained clients of all ages for fat loss, muscle building, fitness and improved health.
.
Top image: Shutterstock/ Syda Productions
Source: sciencedaily.com/releases/2018/04/180424112828.htm