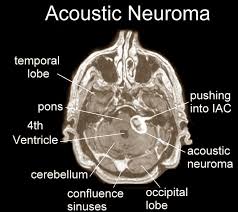 There are different kinds of surgeries for acoustic neuroma treatment, and overall, the prognosis for preserving hearing is poor.
You may be wondering what is the best of these procedures – "best" being a relative term.
Researchers from the University of Michigan Medical School wanted to find out.
The study involved 73 patients who received procedures for their acoustic neuromas between 1999 and 2005.
This large time frame for so few patients exemplifies the rarity of the benign tumor.
The procedure studied is called MCF: middle cranial fossa—an approach from above the ear.
Three-fourths of patients who had useful hearing prior to this surgical procedure had a useful hearing level post-surgery.
The caveat is that, according to H. Alexander Arts, MD, the acoustic neuroma needs to be "small" to "have a good chance of preserving your hearing," says the report in Otology & Neurotology (2006)
Another surgical procedure, as well, has the potential to preserve hearing: the suboccipital approach (from behind the ear).
But the researchers conclude that the MCF approach is better as far as less chance of injuring the hearing nerve.
Hearing Preservation Rates after Acoustic Neuroma Surgery Are Improving
• This study points out that when non-MCF procedures are used, there's a 30 percent rate of preserved hearing.
• The middle cranial fossa approach is being used more often.
• MRI technology is catching more acoustic neuromas when they are small.
One of the study's limitations, however, is it's very small size: 73 suhjects.
Learning that you have a brain tumor is unsettling enough without having to stress over what surgical technique should be used, if you've been told that the mass needs to be removed.
"The success rates for preserving hearing and acoustic neuroma surgery really depends on the expertise of the surgical team rather than the particular approach," says Ted McRackan, MD, MSCR, Director, Skull Base Center; Assistant Professor, Department of Otolaryngology – Head and Neck Surgery, Medical University of South Carolina.
"There are data suggesting that the middle fossa approach has better preservation rates than the retrosigmoid approach, but whichever approach the surgeon is most comfortable with likely gives you the best chances of success."
Acoustic neuromas are very rare. The most common symptoms are sudden tinnitus in one ear only, along with sudden hearing loss in that ear.
However, this symptom duo in only one ear almost always has a far more benign cause.
In addition to acoustic neuroma, Dr. McRackan's clinical practice focuses on comprehensive management of ear, hearing, balance and skull base disorders. Areas of interest include cochlear implants, facial nerve disorders and tumors, vertigo and endoscopic ear surgery.
Lorra Garrick has been covering medical, fitness and cybersecurity topics for many years, having written thousands of articles for print magazines and websites, including as a ghostwriter. She's also a former ACE-certified personal trainer.
—
Source: sciencedaily.com/releases/2006/03/060306114450.htm