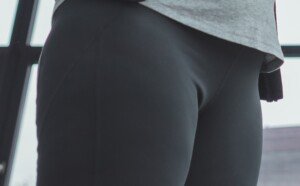 If your long-standing plan to tone up those thunder thighs has failed, it's time to take a detour to a much quicker route that will get you the toned tight legs you dream of.
Those thunder thighs can be gone in a very short time if you commit to using this method of getting rid of them.
Some women believe that the "thunder" is actually muscle. I know this because I was a personal trainer some years back at a large health club.
When I took a skin-fold test to determine fat composition, they then realized it was not muscle; it was excess fat in their upper legs.
There are ways to create leaner looking legs.
Weightlifting Exercises that Will Quickly Tone Your Thunder Thighs
It's tempting to shy away from weight lifting under the assumption that this type of exercise will make your thunder thighs bigger, but that's not the case.
The muscle built will help burn fat and help your thighs become sleek and sexy. The moves to do include barbell squat, leg press, and the deadlift.
Eradicate thunder thighs with rapid toning cardio.
When it comes to doing the cardio to get rid of thunder thighs, a vigorous 20 minute workout should suffice if it's done with a method called high intensity interval training.
While having thunder thighs might be frustrating, getting rid of them is more than doable with this rapid toning remedy.
Forget lengthy, boring sessions on the elliptical machine if you want to rip the thunder out of your thighs.
Thinks squat, deadlift, leg press and high intensity interval training.
Of course, sensible eating is also very important. If you've already been doing this but are not seeing results, then the flaw is in your approach to exercise.
To get rid of that thunder in your thighs, you must spark a serious fat burning effect all throughout your body.
The way to do this is with big compound movements: squat, deadlift, leg press.
And high intensity interval training, which is a form of cardio — but the sessions are SHORT. Before you know it, the session is over. And you'll feel so invigorated!
Lorra Garrick is a former personal trainer certified through the American Council on Exercise. At Bally Total Fitness she trained women and men of all ages for fat loss, muscle building, fitness and improved health. 
.
Top image: Depositphotos.com