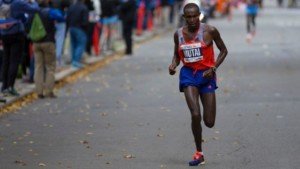 Maybe you've heard that a certain temperature is too hot for marathon running, but what's the lowest temperature that may still be too hot?
As a marathon runner, you certainly know that the hotter the temperature, the more potentially unsafe it is to run long distances.
In one Rochester, Minn. race, the temperature hit 80 degrees by the event's start, and 20 percent of finishers required IV fluids.
Marathon runners can still be at risk for heat related illness when the temperature is as low as just 65 degrees, says a report in Medicine and Science in Sports and Exercise, the science journal of the American College of Sports Medicine (ACSM).
The report states that marathons should be cancelled when the temperature hits 82-86 degrees.
ACSM recommends that in the event that a weather report predicts hot temperatures, race officials should begin the event earlier if they don't cancel it.
Another recommendation from ACSM is that athletes put ego aside and walk part of the race if they begin feeling symptoms of heat illness.
Unfortunately, some runners don't experience early signs of heat sickness, says the ACSM report.
What are the symptoms of heat related illness? Heat illness symptoms include dizziness, headache, nausea, vomiting, clammy skin and rapid pulse (out of proportion to the activity).
Determining the precise cancellation temperature is tough, since so many variables are present, such as cloud cover, available medical support at the marathon event, number of elite runners, individual fitness of the athletes, etc.
And some marathon runners thrive in the heat and have even stated that they prefer it over colder conditions.
The ACSM report adds that there will always be athletes ending up with injuries or medical needs no matter what the weather conditions.
"The key is determining an acceptable casualty rate, and from current data, it's difficult to tell at what temperature that rate becomes unacceptable," says William Roberts, MD, FACSM, session chair and ACSM past-president.
Lorra Garrick is a former personal trainer certified through the American Council on Exercise. At Bally Total Fitness she trained women and men of all ages for fat loss, muscle building, fitness and improved health.
.
Source
acsm.org/about-acsm/media-room/news-releases/2011/08/01/-hot-races-reiterate-precautions-for-marathon-runners