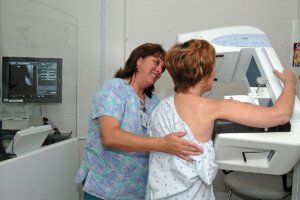 Is the 3D (tomosynthesis) mammogram worth it for dense breasts vs. the 2D (regular) mammogram?
"3D mammography vs. 2D mammography showed increased cancer detection, clinically significant for women with scattered and heterogeneously dense breast tissue (cat II and III)," says Anjali Malik, MD, a board certified diagnostic radiologist with Washington Radiology in Washington, DC. She interprets mammograms, breast MRIs and ultrasounds, and performs biopsies.
"Digital mammography offers screening benefits over film mammography for women with dense breasts," adds Dr. Malik.
If your HMO doesn't cover tomosynthesis, and you have dense breasts, you should still have it done at a separate facility that provides this procedure – even if you have to pay out of pocket.
3D vs. 2D: the ASTOUND Study
In a study of more than 3,000 women with dense breasts for whom regular (2D) mammograms did not show cancer, the addition of 3D mammograms (or ultrasound) detected 24 extra cancers. This report appears in the March 2016 Journal of Clinical Oncology.
Dense breast tissue appears white on a mammogram. But so do tumors. This makes it more challenging for a radiologist to spot a tumor.
If breasts are mostly fatty, the image has a lot of black in it. A white patch (that's actually a tumor) will stand out much more.
However, the issue isn't just about how keen a radiologist's eye is for "catching something."
The high concentration of fibrous and glandular tissue, that creates the density, actually raises the risk of breast cancer – though just why this is has not yet been determined.
One theory is that the more of this tissue there is, the more cells there are to start growing awry in the first place.
ASTOUND stands for Adjunct Screening with Tomosynthesis or Ultrasound in Mammography-negative Dense breasts.
Researchers had asymptomatic women with dense breasts (C and D) undergo a regular mammogram and then the tomosynthesis or ultrasound in the same visit.
It's scary: Twenty-four women who thought their 2D mammogram cleared them of breast cancer were informed that the tomosynthesis or ultrasound detected a possible malignancy.
Twelve cases were by tomosynthesis and ultrasound; one by only tomo; and 11 by only ultrasound.
This translates to four additional cancerous tumors per 1,000 women being detected by tomosynthesis (and an extra seven BCs picked up by ultrasound per 1,000).
More research is warranted, but ASTOUND is indeed the first prospective trial that compares additional screening for dense breasts.
Ongoing Research with 3D Mammograms
"The Tomosynthesis Mammographic Imaging Screening Trial (TMIST or study EA1151) is a randomized breast cancer screening study," says Dr. Malik.
"The ECOG-ACRIN Cancer Research Group opened the trial on July 6, 2017, and is currently enrolling [as of August 2019].
"TMIST aims to help move towards a more personalized approach that tailors mammography for each woman based on her own genetics and individual risk factors for developing breast cancer."
Dr. Malik is a frequent public speaker and advocate for breast health awareness. She has lectured on the latest advances in breast cancer screening including 3D Mammography™. Follow her on Instagram: @AnjaliMalikMD
Lorra Garrick has been covering medical, fitness and cybersecurity topics for many years, having written thousands of articles for print magazines and websites, including as a ghostwriter. She's also a former ACE-certified personal trainer.  
.
Top image: Bill Branson/Cancer.gov
.

Sources
N Engl J Med. 27;353(17):1773-83, 2005
jamanetwork.com/journals/jama/fullarticle/2516698
ncbi.nlm.nih.gov/pmc/articles/PMC5883365/
ajronline.org/doi/full/10.2214/AJR.14.13554
sciencedaily.com/releases/2016/03/160309101058.htm