Have you had unexplained vaginal bleeding and are wondering if ovarian cancer can be the cause?
Postmenopausal and unexplained premenopausal vaginal bleeding must always be investigated by your OBGYN so that a malignancy can be ruled out.
Though ovarian cancer is not a common condition, it is the deadliest of all gynecological cancers, as far as percentage of patients who are still alive after five years, relative to number of diagnoses.
"Ovarian cancer is an insidious disease because it often does not present until it is in the more advanced stages," says Karen Patrusky, a board certified OBGYN and F.A.C.O.G. in private practice for 20+ years.
"The most typical presenting symptoms of ovarian cancer are abdominal bloating, early satiety after a meal, changes in bowel habits and urinary pressure."
This disease is far more common in postmenopausal women, though it can definitely occur in premenopausal women. See the statistics chart below for age brackets and occurrence.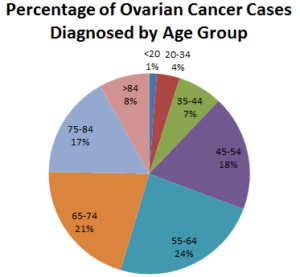 Postmenopausal Bleeding: Ovarian Cancer?
"Abnormal vaginal bleeding is not a typical presentation of ovarian cancer, but it can be a warning sign of a pelvic abnormality," says Dr. Patrusky.
"Vaginal bleeding would be a more common presentation of a uterine abnormality, and bleeding after sex would warrant an evaluation of the cervical and vaginal tissues.
"There are some ovarian tumors, however, that can cause atypical vaginal bleeding.
"This occurs either because the tumor is secreting estrogen and stimulating the uterine lining [which can then bleed] and/or because the tumor can grow, or metastasize, to the adjacent pelvic organs, such as the uterus, and then present with abnormal vaginal bleeding."
Tests to Get for Unexplained Vaginal Bleeding
• Pap smear
• Posterior vaginal wall smear
• Endometrial biopsy
• Transvaginal ultrasound
• Clinical exam that includes a digital vaginal and digital vaginal-rectal exam
• Test for vaginal infection
If all tests are negative in a postmenopausal woman, and she is otherwise healthy, the bleeding will usually be attributed to tissue atrophy due to loss of estrogen.
Further investigation may be required if the patient is premenopausal.
The problem is that some women are afraid to have an endometrial biopsy due to reports of intense pain, and hence, refuse it.
However, the pain typically lasts for a total of 15 to 20 seconds.
If there's a recurrence of the vaginal bleeding, your doctor may recommend a hysteroscopy (a viewing procedure of the cervix and uterus), and a dilation and curettage procedure to obtain a uterine tissue sample.

Dr. Patrusky is the developer of Voila Intimate Mood Oil, a 100% organic, non-hormonal lubricant made from coconut oil infused with the purest natural herbal oils. All five formulas are vegan, cruelty-free and U.S. produced. Voilamoodoil.com
Lorra Garrick is a former personal trainer certified by the American Council on Exercise. At Bally Total Fitness she trained clients of all ages for fat loss, muscle building, fitness and improved health.
.
Top image: Shutterstock/Olena Yakobchuk