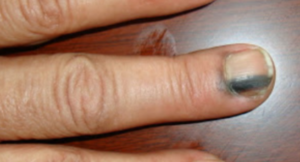 Are there features about melanoma's Hutchinson's sign that are different than those found in pseudo-Hutchinson's sign – which has causes other than melanoma?
"Hutchinson's sign is periungual extension of brown-black pigmentation from longitudinal melanonychia onto the proximal and lateral nail folds, and is an important indicator of subungual melanoma," says Hadley King, MD, a board certified dermatologist who specializes in medical and cosmetic dermatology.
What does this mean?
• Periungual means situated around a fingernail or toenail.
• Longitudinal melanonychia refers to a pigmented stripe or band along the length of a nail (finger or toe). The causes vary and include melanoma.
• Proximal means "bottom" of the nail; and lateral means side.
The presence of a true Hutchinson's sign – in which pigmented cells are actually in the surrounding skin of a nail – is highly suspect for melanoma.
But There Are Also Hutchinson's Sign Mimickers
What appears to be a Hutchinson's sign "is not always indicative of melanoma," says Dr. King.
She explains, "Pseudo-Hutchinson's sign is the presence of or illusion of pigment in the perionychium [the tissue around a nail] associated with both benign and malignant conditions in the absence of melanoma.
"It encompasses three simulants of Hutchinson's sign: a benign nevus with periungual pigmentation, Bowen's disease of the nail unit with periungual hyperpigmentation, and hyperpigmentation of the nail bed and matrix may reflect through the relatively transparent nail folds and look like pigmentation of the nail folds."
Let's Break that Down
Benign nevus with periungual pigmentation. This translates to a harmless skin mole. Moles can grow in skin anywhere. So why not about the nail, too?
After all, there's skin around and beneath the nail (periungal). If a mole just happens to be there, it can be in the shape of a band, stripe, streak or line.
Below is another benign mole in the nail matrix, with a more pronounced pseudo-Hutchinson's sign.
Believe it or not, the adult fingernail below shows a benign elongated mole that's been present all through the adult patient's life with little change.
Note the prominent pseudo-Hutchinson's sign in that above image. This longitudinal melanonychia had features of melanoma (e.g., variegated banding the entire nail length, and a "spread" of pigment at the nail fold wider than the banding).
A biopsy confirmed that this scary-looking, dark nail band was a benign birthmark.
It's a well-known fact in the world of dermatology that even under magnification, it can be difficult for doctors to tell a benign, elongated mole from a melanoma.
Bowen's disease. Another name for squamous cell carcinoma in situ (very early stage). It's highly treatable.
So is it the "real" Hutchinson's sign or a mimicker?
You should never, ever make this determination at home. A dermatologist needs to examine your fingernail or toenail.
The doctor should examine the pigmentation with a dermatoscope. Due to the diagnostic challenge of differentiating between a Hutchinson's sign and a pseudo version, the patient should seek a second opinion — and also be open to the idea of a biopsy.
If you've had a Hutchinson's sign as part of a pigmented nail stripe for as long as you could remember, or "all my life," chances are in your favor that this is a benign condition.
However, if the nail had always been free of an elongated pigment, but over time, you've noticed a streak forming — that's been gradually getting thicker and darker — and the spread of the pigment into the skin around the nail is a NEW feature —
This is ominous for melanoma and requires a prompt visit to a dermatologist.
And by the way, the very top image shows acral lentiginous melanoma with a true Hutchinson's sign.
Top image: Hutchinson's sign … or pseudo-Hutchinson's? Credit: Nameer Al-Sudany, MD

Dr. King worked as an attending physician at Memorial Sloan-Kettering Cancer Center, specializing in cutaneous oncology. Her research has been published in numerous medical journals. Currently she's with SKINNEY Medspa + Wellness in NYC.
Lorra Garrick has been covering medical, fitness and cybersecurity topics for many years, having written thousands of articles for print magazines and websites, including as a ghostwriter. She's also a former ACE-certified personal trainer.
Sources:
accessmedicine.mhmedical.com/content.aspx?bookid=685&sectionid=45361262
researchgate.net/figure/Pseudo-Hutchinsons-sign-in-a-nail-apparatus-nevus_fig8_229083093
escholarship.org/uc/item/2qx5931b
skintumors.blogspot.com/2010/02/acral-lentiginous-melanoma_17.html