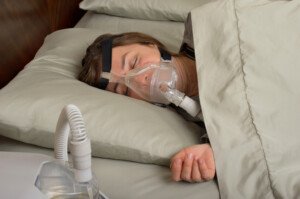 A clever experiment proved remarkably effective at scaring non-compliant CPAP users into faithfully using their equipment for sleep apnea.
If you're finding it difficult to adhere to CPAP use, you may want to request that someone take a video and audio of you sleeping. This may scare you straight into sticking with CPAP therapy.
It worked like a charm for John Brugger of Commerce City, CO, who couldn't stand using his CPAP. And the scare tactic worked for many others as well.
After viewing the highly disturbing video of himself being choked during sleep, which brought him to tears, Brugger stated in the report, "Now I can't go to sleep without it. I won't even take a nap without it."
Study: Show Non-Compliant CPAP Users What Happens to Them When They Sleep
This ingenious idea came from Mark Aloia, PhD, an expert in behaviors related to health conditions who focuses on sleep apnea.
At the annual meeting in 2014 of the Associated Professional Sleep Societies, Dr. Aloia, of National Jewish Health in Denver, presented the results of his study.
The study began by showing non-compliant CPAP users videos of strangers struggling to breathe during sleep – without their CPAP gear.
Not surprisingly, the collective reaction was denial that they themselves were "like that."
Next, Dr. Aloia had the study participants themselves videotaped without CPAP during sleep.
The effect was dramatic, scaring them straight to their CPAP equipment.
"People who watched themselves gasping and struggling to breathe used their CPAP machines three hours more per night than those who saw no video" said Dr. Aloia in his presentation, "and nearly two and a half hours more than those who watched a video of another patient with sleep apnea."
What you can't see or feel CAN hurt you. You wake up, having not used your CPAP machine, having no idea just how much you writhed and struggled to breathe during sleep.
Imagine you're asleep and someone puts their hands around your neck and compresses – not enough to fully awaken you, but enough to cause you to squirm and gasp with labored breathing.
If this isn't enough to provoke you into complying with CPAP, then ask someone to make a video of you. Then get the popcorn, sit back and relax … if you can, that is … while you watch.
"The shocking part was that patients actually got very emotional," adds Dr. Aloia. "Sometimes we'd have men, who had never really thought of themselves having a problem, being tearful."
Lorra Garrick has been covering medical, fitness and cybersecurity topics for many years, having written thousands of articles for print magazines and websites, including as a ghostwriter. She's also a former ACE-certified personal trainer.
.
Top image: Shutterstock/Brian Chase
Source: sciencedaily.com/releases/2017/07/170712110452.htm

cpap compliance