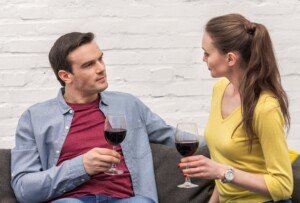 Your chemotherapy has finally ended for your breast cancer treatment—but does this mean it's dangerous to resume drinking alcohol due to the possibility of a recurrence of disease?
Many women who enjoyed drinking alcohol prior to their breast cancer diagnosis—who had to give it up during chemo—want to know if it's safe to resume drinking once the chemo is completed.
And if so, how much? After all, alcohol is indeed a risk factor for breast cancer.
The Nutrition and Physical Activity Guidelines for Cancer Survivors is published in the April/May 2012 CA: A Cancer Journal for Clinicians.
Alcohol intake can also increase levels of estrogens in the blood, begins an excerpt from the Journal.
In theory, this could increase the risk of estrogen receptor-positive breast cancer coming back after treatment.
As you can see, this begs the question of how potentially harmful or harmless it is to resume drinking after chemotherapy ends – for patients diagnosed with triple negative breast cancer – because TNBC is not hormone receptive.
But only a few studies have looked at alcohol use in breast cancer survivors, continues the Journal excerpt.
About half of them link it to worse outcomes, while the other half either showed no harm or a benefit. One study found the effect of alcohol may be worse in women who are overweight or obese.
Another Study
Cancer Epidemiology, Biomarkers & Prevention (2016) published a study that's a little more encouraging for women who wish to resume drinking following the completion of their chemo.
A recurrence of breast cancer is always a life-threatening situation, but is there data on whether drinking – once chemo ends – increases MORTALITY from a recurrence?
The study says that alcohol use among breast cancer survivors has been associated with risks of developing a breast cancer recurrence – for instance, finding more cancer in a breast that's already been diagnosed.
Drinking also raises the risk of being diagnosed with a second breast cancer in the other breast as a first-time tumor in that breast, says the study.
Interestingly, the study revealed that despite this link to increased recurrence of disease, there was not much evidence of an increased risk of death from the recurrence.
The lead study author, Christopher Li, MD, points out in the report that drinking alcohol following treatment for breast cancer does not increase the risk of dying from this disease.
Drinking Alcohol After Chemo Ends
Some women will suddenly find it easy to lose the excess 30 pounds they'd been carrying for years prior to their breast cancer diagnosis—because they know that excess body fat is a risk factor in recurrence as well as first-time breast cancer.
Perhaps they decided to give up drinking sugary soda altogether as part of this plan.
They feel empowered that they've done something very important to lower the risk of recurrence.
Why not consider giving up drinking liquor, too? Well, for some women, this seems impossible. They may love too much their nightly ritual of wine with dinner, for example.
But giving up alcohol will eliminate any fears of a breast cancer recurrence caused by drinking.
If you think it'll be impossible to give up alcohol, at least discuss this with your oncologist.
Perhaps you can cut back on your drinking, maybe reserving it only for holidays or special occasions such as birthdays, anniversaries and vacations.
Lorra Garrick has been covering medical, fitness and cybersecurity topics for many years, having written thousands of articles for print magazines and websites, including as a ghostwriter. She's also a former ACE-certified personal trainer.
.
Top image: Depositphotos.com
.
Sources:
fredhutch.org/en/news/center-news/2016/06/new-study-on-alcohol-use-after-breast-cancer.html
cancer.org/treatment/survivorship-during-and-after-treatment/staying-active/nutrition/nutrition-and-physical-activity-during-and-after-cancer-treatment.html