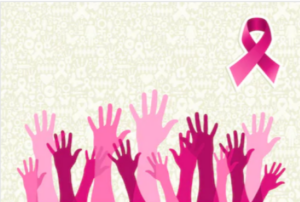 I'm 21 days postop from a preventive double mastectomy without reconstruction and have pulled a number of tricks to keep it a secret from my family.
Here's how to keep family members from finding out you had a double mastectomy without a reconstruction.
But first, I must point out again that my double mastectomy was prophylactic, after learning that my sister had been diagnosed with breast cancer.
It's also fair to add that prior to the prophylactic double mastectomy, my cup size was smaller than an A, in that there was always room between my breasts and the cup of the "A" bra.
How to Hide Appearance of Double Mastectomy from Family
• Wear baggy shirts with a pocket on both sides of the chest and put things in the pockets.
Don't stuff them; a cell phone in one, a pair of reading glasses in the other, will add sufficient contour to pass as your breasts – if your breasts were small enough to begin with.
The shirt below easily conceals my JP drainage bulbs.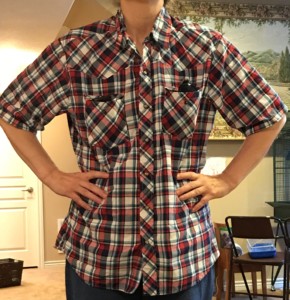 • Lean forward on countertops when facing people while interacting with them. This will billow out your shirt, concealing the flatness.
• Lean forward while seated; same reasoning.
• When walking past someone such that they'll see you from a side view, position an arm so that it hides your chest profile, e.g., fold hands at chest level.
• Carry things at chest level but don't be conspicuous.
• Drape your hair over your chest. This worked well when I was wearing a form-fitting night shirt.
• Avoid looking down at your chest, as this will draw attention to that area.
• Dark baggy tee shirts will work wonders for women who were previously "A" cup or smaller.
• A stiff-cup bra will substitute for a prosthesis.
Stiff Cup Bras
The problem with the one I purchased was that the straps weren't long enough to prevent the bottom of the bra from lining up right with the mastectomy incisions.
So I cut the straps, then rejoined them with two safety pins to add length. Women who can sew can easily attach a piece of fabric.
However, I don't feel the metal of the safety pins against my skin, and they do not show through my shirts.
You can always spend who knows how much time trying on one bra after another in the store, but I didn't have the patience and bought the first stiff "A" cup I could find.
So why don't I just wear it all the time? Because the contact of the bra against the skin below the incisions is very uncomfortable.
I don't know why; may have something to do with the skin still being sensitive from the surgery.
How to Hide Double Mastectomy Recovery from Family
At 14 days postop, I was in the emergency room – while my father was being examined to figure out why his back and stomach hurt so badly; I had driven him there.
Due to his condition I decided to stay with my parents to oversee his care. My brother, sister-in-law, 12-year-old niece and two preschoolers are living with my parents.
If you work out of your home, that of course eliminates having to hide a mastectomy from coworkers.
I'm 13 days into postop arm exercises (I began them nine days after the surgery).
While I continue staying with my parents as my father deals with his medical condition, I insert three sessions a day of arm exercises.
My mother saw me doing some against a door and asked what I was doing.
I answered, "I'm doing arm yoga."
She bought this.
Anyone who is NOT familiar with yoga will buy this answer.
For arm exercises while lying on a floor or seated in a chair, tell curious people you're doing shoulder stretching exercises.
You can say that too if they catch you doing anything against a door; involving a doorframe; or using a wall.
Additional Ways to Hide Double Mastectomy Recovery from Family
My mother asked me to unscrew a tight jar lid, in the presence of my brother and sister-in-law.
I tried it with partial effort and it wouldn't budge. Everyone knows I'm great at unscrewing tight jar lids.
I got out of this by giving up and claiming I had a sore shoulder from a gym workout. Nobody suspected anything.
A big box, addressed to my sister-in-law, had been delivered to the driveway after my brother, sister-in-law and their kids left town for vacation.
I had to drive my elderly parents somewhere. Neither were capable of moving the box out of the way.
Normally I'd squat and pick the whole thing off the ground, but I was still on weightlifting restriction, so I tipped it over and over to move it, telling my father that I had a sore shoulder from a gym workout.
Try not to be present when you might be asked to lift something more than 10 pounds. Be alert!
When I saw my 12-year-old niece dragging around a heavy piece of luggage, I immediately bolted just in case my parents asked me to help her with it.
Six days postop I drove my father to a doctor appointment. When I drive I always remove his walker from his car trunk. When he's well and I'm not present, he drives and does it himself.
That time, though, I asked HIM to do it, explaining, "I need to see just how efficient you are at taking out the walker. I want to see if maybe I need to re-assess the exercises I gave you."
I had shown him upper body exercises quite a while ago, so he totally bought my excuse. He bought it a second time when it was time to put the walker back into the trunk.
As you can see, keeping your preventive double mastectomy a secret from family members who see you a lot isn't as difficult as you may think – especially if you were small to begin with.
Lorra Garrick is a former personal trainer certified by the American Council on Exercise. At Bally Total Fitness she trained clients of all ages for fat loss, muscle building, fitness and improved health. 
.
Top image: Shutterstock, Cienpies Design