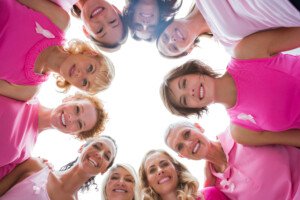 What's the higher risk of breast cancer when pitted against each other: having both family history and dense breasts, or having ONLY the BRCA mutation?
Family History
"Family history" in this case refers to a first-degree relative of yours who's been diagnosed with breast cancer: mother, sister or daughter.
Many women fear a dramatically heightened risk of breast cancer if a first-degree relative is diagnosed with it.
According to one report, 89 percent of women diagnosed with BC do not have a first-degree relative with it. According to the Komen Foundation, only five to 10 percent of BC's are due to genetic mutations.
Lack of family history isn't nearly as significant as the presence of family history!
A woman with one first-degree female relative with BC has about twice the risk of a woman without this family history.
Breast Density
From the National Cancer Institute: "Women with radiologically dense breasts (heterogeneously or extremely dense in the terminology of the Breast Imaging Reporting and Data System) have a threefold to sixfold increased risk of breast cancer compared with women who have fatty breasts."
And from another source: "Increasing age and high breast density are among the strongest risk factors for the disease." Karla Kerlikowske, MD, a professor of medicine at UCSF and a physician at the UCSF-affiliated San Francisco VA Medical Center.
I'm going to stop here, as this is pretty scary stuff for women with dense breasts to be reading. You get the points:
• "Mammographic breast density may be the most undervalued and underused risk factor in studies investigating breast cancer." (National Center for Biotechnology Information)
• Having a first-degree relative with BC is nothing to sneeze at.
BRCA1 and BRCA2 Mutations
• BRCA1 mutation means a 55-65 percent chance of getting breast cancer by age 70.
• BRCA2 mutation means a 45 percent chance.
• For the general population, the chance of developing BC by age 70 is eight percent.
So all of this begs the question of combination: Which increases the risk of breast cancer more: the duo of dense breasts + first-degree relative with the disease, or the absence of those two risks BUT the presence of a BRCA mutation?
Of course, having all three is really bad news, but let's compare the duo of dense breasts and family history with the risk of just a BRCA mutation.
According to a report from the National Center for Biotechnology Information, the heightened risk of breast cancer JUST from a BRCA mutation is significantly greater than from dense breasts combined with family history (first-degree relative).
This much greater risk is obvious when you compare the numerical values for "relative risk" in the "Risk Factors for Breast Cancer" Table on the site.
• Heterozygous for BRCA 1, age • Heterozygous for BRCA 1, age 60-69:  15
• More than 75% of breast is dense on mammogram:  4
• Two first-degree relatives with BC:  3.6
• One first-degree with premenopausal BC:  3.3
• One first-degree, age 50+ with postmenopausal BC:  1.8
Add the highest numbers in the dense breast and family history categories and you get 7.6, which is a lot lower than the 15 for BRCA 1 (age 60-69) and a LOT lower than for the 40 and younger category.
So according to this table, the combination of dense breasts and first-degree family history is not nearly as threatening as the risk just from a BRCA mutation.
Lorra Garrick has been covering medical, fitness and cybersecurity topics for many years, having written thousands of articles for print magazines and websites, including as a ghostwriter. She's also a former ACE-certified personal trainer.  
.
Top image: Shutterstock/ESB Professional
Sources:
curetoday.com/tumor/breast/screening/cdr0000062751
futuremedicine.com/doi/pdf/10.2217/bmt.13.21
ncbi.nlm.nih.gov/books/NBK22312/
ncbi.nlm.nih.gov/books/NBK22312/table/a2000c309ttt00015/?report=objectonly
ww5.komen.org/BreastCancer/InheritedGeneticMutations.html
ww5.komen.org/BreastCancer/FamilyHistoryofBreastOvarianorProstateCancer.html