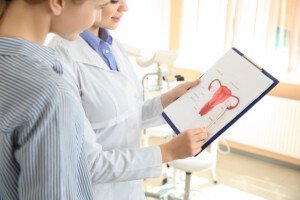 You'll actually be shocked at the kind of exercise that lowers uterine cancer risk by a whopping 52 percent when compared to less active women.
Research shows that physical activity can be very beneficial in reducing the risk of uterine cancer.
One compelling study followed 253,023 women for over six years.
This study showed that premenopausal women who exercised the most were an impressive 34 percent less likely to get uterine cancer, when compared to inactive women in the study.
Interestingly, the type of exercise that this study deems as particularly beneficial is that of doing a lot of housework.
However, the study also says that the amount of household, or recreational-level exercise, would have to amount to three to four hours every day – to create the greatest benefit to lowering uterine cancer risk.
Just how much of that 3-4 hours a day of activity was comprised of the housework?
Who does three hours of housework a day, with the exception of women who do this to earn money?
This would mean women with large families. What about women with a few kids or no kids and a tidy husband? This is where the "recreational" exercise comes in.
But 3-4 hours a day total is quite a bit for the vast majority of women, unless they get in a lot of exercise on the job.
This is my take, but here is what Dr. Christine Friedenreich of the Alberta Cancer Board in Calgary, Canada and her colleagues write in the International Journal of Cancer:
"This amount and type of activity is achievable by many in the at-risk population."
A woman who works a desk job, then comes home to an empty house, or just a husband living there, will really have to make a point of getting in a lot of exercise every day.
The report stated that several studies had linked exercise with a reduced risk of endometrial cancer, but that only two studies had investigated total activity rather than activity on the job or recreational activity.
The researchers analyzed data from EPIC (European prospective investigation into cancer and nutrition), which involves over half a million women and men spanning 10 European nations.
Out of that 253,023 women, 689 developed uterine cancer. Overall (i.e., both premenopausal and postmenopausal women), the most active subjects had a 12 percent lowered likelihood of being diagnosed with uterine malignancy.
However, when looking at just the premenopausal women, again, we see that percentage leaps to 34 percent.
Most surprising is that for the premenopausal women who did the most housework, the reduction in uterine cancer risk was a whopping 52 percent lower than in less active women.
But how practical is it for the average women to figure out how to do three or more hours of housework every day?
Unless the house is full of kids, how much housework can accumulate every 24 hours?
I'd like to see research into the effects of shorter-duration but very intense exercise on lowering uterine cancer risk.
It's far more realistic for women, especially busy women, to engage in just one hour a day of very intense exercise, than to spend 3-4 hours a day cleaning the house or even mixing that up with "recreational" level activity.
Another study shows that light to moderate exercise works to reduce uterine cancer risk particularly with obese women.
Light to moderate exercise means a range of being able to comfortably carry on a conversation while working out.
Yet at the same time, one is still elevating the heart rate and sustain the activity (walking, stationary bike), to a level of having to breathe hard, even sweating, feeling the fatigue, feeling the effects on conversation — yet still able to talk and sustain the exercise.
If these kinds of studies have you confused, just remember some basic facts about exercise and activity:
Limit sitting time. Be up and about as much as possible, such as when communicating via text.
Consider getting a treadmill desk.
Commit to aerobic exercise at least twice a week.
Commit to strength training two to three times a week.
Lorra Garrick is a former personal trainer certified by the American Council on Exercise. At Bally Total Fitness she trained clients of all ages for fat loss, muscle building, fitness and improved health.
.
Top image: Shutterstock/Pixel-Shot
Sources: International Journal of Cancer, July 15, 2007
American Cancer Society's Prospective Cancer Prevention Study 2 Nutrition Cohort study.