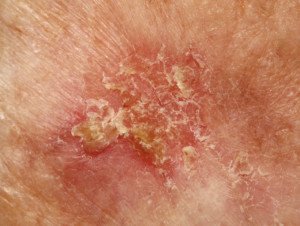 Yes, a skin injury can indeed develop into cancer, says a dermatologist.
There are three main types of skin cancer: melanoma, squamous cell carcinoma and basal cell carcinoma.
Can an injury to the skin lead to cancer?
"The answer is a resounding yes," says Dr. Rebecca Tung, MD, director of the dermatology division at Loyola University Health System, Chicago.
"A past injury to the skin such as trauma from an accident which formed a scar, a vaccination site scar or even past exposure to radiation or caustic chemicals which resulted in scar formation can potentially turn into a skin cancer over time."
How long does it take for a scar to morph into cancer?
"Typical malignant change may occur over decades in these cases," says Dr. Tung.
"Signs that may alert you that your scar is no longer 'just a scar' include pain, redness, bleeding or skin breakdown.
"Scars and skin which has been persistently inflamed can turn into a type of skin cancer called squamous cell carcinoma."
What is squamous cell carcinoma?
"This type of SCC is rare and was initially coined as a 'Marjolin's ulcer' after the surgeon who first described the condition.
"There have also been reports of the more common type of skin cancer called basal cell carcinoma occurring in vaccination scars. Burn scars can also be the site of skin cancer years after the burn has healed."
Excessive Sun not Always a Factor
"While most non-melanoma skin cancers (BCCs and SCCs) result from sun or ultraviolet exposure, research shows that long-term inflammation and scar formation can also create cancerous change in the skin," says Dr. Tung.
"Your dermatologist can confirm the diagnosis of skin cancer by performing a skin biopsy.
"A scar (increased density of collagen in the lower part of the skin called the dermis) looks a world of difference away from a skin cancer (collections or islands of atypical cells) under the microscope."
Be on Lookout for Changing Scar
"Have a changing scar? You owe to yourself to see a dermatologist to help determine if it has transformed into cancer.
"Again, when skin cancer is detected in its early stages, it's often fully curable with surgical removal."
Dr. Tung's specialties include general dermatology with skin cancer surveillance, moles, melanoma, surgery (Mohs micrographic, laser, skin cancer reconstruction) and cosmetic dermatology.
Lorra Garrick has been covering medical, fitness and cybersecurity topics for many years, having written thousands of articles for print magazines and websites, including as a ghostwriter. She's also a former ACE-certified personal trainer.
.
Top image: Shutterstock/Dermatology11