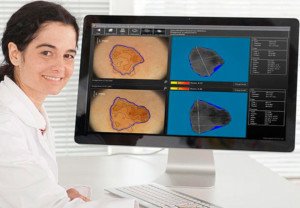 Yes, there is technology that can catch melanoma very early — much earlier than what a dermatologist's handheld scope can detect.
The waiting game with moles is over; you do not have to wait till a mole starts looking "scary" or "funny" to peg that spot as something needing medical evaluation.
An early detection program for melanoma goes way beyond simply examining your skin at home and having a dermatologist look it over in the exam room (which often takes only minutes).
"The importance of enrolling in an early detection program is to identify melanomas when they are shallow and have not metastasized, requiring only a simple incision or treatment," says Richard Bezozo, MD, President of MoleSafe, the world's most advanced melanoma screening program.
"To the naked eye early melanoma can be mistaken for a mole or lesion. The changes that occur with a melanoma may not be visible for some time.
"For people at high risk for melanoma it is essential that these lesions be identified as early as possible and that action be taken. The best available program for these people is MoleSafe."
Serial digital dermoscopy is superior to a clinical exam by a dermatologist for detecting melanoma.
"The MoleSafe procedure utilizes a combination of high resolution dermoscopy imaging technology that uses painless, high intensity light to penetrate through the surface of the skin to show the structure of moles," explains Dr. Bezozo.
"The results are digital, and in high resolution and are quickly interpreted by some of the world's leading experts in dermoscopy.
"These experts flag hundreds of melanoma cases each year, compared to a dermatologist who will only see a handful."
Who should undergo serial digital dermoscopy?
Though people at particular risk for melanoma should do this, the technology is open to anybody who wants to get a head start on the earliest melanoma detection.
I myself am in a serial digital dermoscopy program (have had my second imaging), and this gives me great peace of mind.
This technology is also ideal for people who simply cannot inspect their moles due to their location on the body.
Who's especially at risk?
"The majority of people at risk include those with multiple moles (dysplastic nevus syndrome), people who have had more than one blistering sunburn, people who have had melanoma before, and people on an immunosuppressive agent," says Dr. Bezozo.
There are more new cases yearly of skin cancer than breast, prostate, lung and colon cancers combined. The MoleSafe system produces high-resolution diagnostic images and creates a profile for your skin that's monitored for any changes in moles.
Lorra Garrick has been covering medical, fitness and cybersecurity topics for many years, having written thousands of articles for print magazines and websites, including as a ghostwriter. She's also a former ACE-certified personal trainer.
Source: molesafe.com