CBVA = Calgary Beach Volleyball Association. We have been a not-for-profit since 1992.
I became president in 2012 and directed my energy and expertise in mental health to creating and expanding youth participation at CBVA.
We now have five to six youth camps that any youth can register for and allow them to learn new skills, develop skills and practice with weekend tournaments and eventually a league on our outdoor 19 courts.
All of the current youth camps are aware that if any youth cannot afford registration fees, CBVA will pay their fees.
Our site is located in Dover which is primarily low socioeconomic families with higher gang and crime rates.
We provide free drop-in volleyball every Friday, and now that we have secured funding will be working towards to giving back to the community via scholarships for youth — sponsoring youth who are trying to succeed in this sport but cannot due to financial barriers. Essentially foster the next generation.
The Value of Organized Sports for At-Risk Youth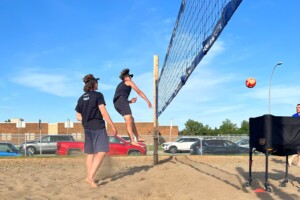 The research shows that organized sports can decrease a youth's involvement with crime/gangs, dropping out of school, worsening mental health and decrease their chances of addictions.
When youth, in particular at-risk-youth, are a part of organized sports like beach volleyball, they are less likely to be involved in crime and become a gang member.
Some of these youth have never had a consistent role model in their life, so having a coach who cares about them is life changing.
Beach volleyball teaches them discipline which could have been lacking.
It helps regulate their sleep patterns, regulate their emotions, improve motor skills and combat obesity.
Beach volleyball, like most sports, teaches at-risk youth how to develop health interpersonal skills, and how to work as a team.
Another important skill that they can learn is resilience or improve the resilience they already have.
Right now that we have minimal expenses annually, the sky is the limit for the youth.
COVID-19 stopped all our plans until May 2022. We ran our first charity volleyball family fun day for a local domestic violence shelter.
We brought moms and their children to our site, gave them an intro to volleyball, played games, had lots of food, snacks and activities to do like a 40-foot slip and slide all for free and water gun fights.
It was a day filled of fun and laughter which is something these kids don't get that often.
All photos credit to the Burnside family.
Becky Morrison is an all-ages mastered prepared nurse practitioner with a specialty in mental health. She is president of the Calgary Beach Volleyball Association (CBVA) which brings sport to at-risk youth.