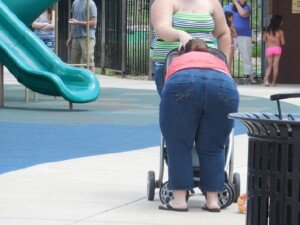 Obese model Tess Holliday once said in an interview that she was physically fit because she was able to take care of a toddler.
One can safely assume that she is not the only morbidly obese woman who believes this.
The suggestion that physical fitness is required to effectively take care of a toddler does not make sense.
After all, there are moms of toddlers who have physical limitations due to disease, injury or birth defect – yet manage to carry out their mom duties quite effectively.
So right off the bat, Tess Holliday's declaration should come off as a desperate attempt to defend her stance that a person with morbid obesity can still be healthy and fit.
Tess Holliday's comment can actually be taken offensively by women with physical challenges who are raising young children.
The implication by the Instagram star is that physical fitness is required to be a good mommy. If this is true, what does this say about moms who use wheelchairs or who have pain disorders?
It can also include women who get quickly fatigued because they're smokers who never do conventional aerobic exercise.
How IS fitness measured?
According to the European Society of Cardiology, if it takes more than 90 seconds to climb four flights of stairs, a person has only suboptimal heart health.
There's been much research over the years regarding what a good fitness test is (e.g., treadmill tests, pushup tests, rising-from-floor tests, stool stepping tests) – but none involve taking care of a toddler.
"Fit is a relative word that means different things to different people, but generally speaking, it means "to be in good health,'" says Sarah Johnson, an RN and health ambassador for FamilyAssets, an online eldercare and senior living resource.
Johnson explains, "I would say a fit person is able to lift their own body weight, comfortably maintain their maximum heart rate for an extended period of time, has vitals that are within a normal range — resting heart rate, respiration rate, blood pressure and body temperature. A fit obese person, to me, is an oxymoron."
Taking care of a toddler is very busy work that can be psychologically draining to some women.
But this doesn't equate to a measure of cardiovascular, cardiorespiratory and musculoskeletal fitness.
A fitness workout or class usually lasts an hour. Some last only 30 minutes. And some women work out for two hours at a time. Needless to say, taking care of a toddler doesn't stop after 30 minutes.
However, the all-day nature of taking care of young children does NOT mean that anyone who does this must necessarily be physically fit.
In fact, fitness professionals and personal trainers will assert that one need not exercise more than an hour a day to achieve a respectable amount of fitness.
Depending on the type of exercise and how intense it is, one need not work out more than even 30 minutes a day.
Thus, the time factor involved in taking care of a toddler is not relevant to the concept of physical fitness.
What's unfortunate is that Tess Holliday has convinced many women that because she's been taking care of a young child, her morbid obesity can't possibly mean a setup for future major health and mobility problems.
Another point to consider is the possibility that the influencer employs a nanny who does much of the physical work involved in caring for a young child.
FamilyAssets connects families with leading senior care providers using data and technology. Individuals can select goals and preferences to create a customized list of senior care options including assisted living, memory care and skilled nursing.
Lorra Garrick is a former personal trainer certified through the American Council on Exercise. At Bally Total Fitness she trained women and men of all ages for fat loss, muscle building, fitness and improved health.
.
Top image: ParentingPatch, CreativeCommons
Source:
sciencedaily.com/releases/2020/12/201211083104.htm