A survivor of triple negative breast cancer shares advice on early detection that every woman should know about. Breast cancer is highly curable only if it is caught early enough.
We can be so hung up on the latest infectious disease in the media that many other health-related messages end up falling on deaf ears.
Let's take a good look at a disease that's been plaguing women – and some men – for years: breast cancer.
In an average year, about 276,000 women in the United States will be diagnosed with breast cancer– and over 42,000 will die. Deaths include those with diagnoses in previous years.
Early Detection May Save Your Life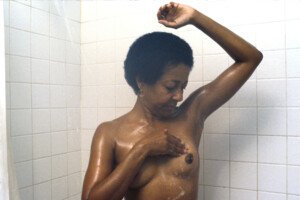 By far, the best protection from breast cancer is early detection, which means women of all ages should be checking their breasts on a regular basis – at least monthly.
Frequency as it relates to your age and medical history should be discussed with your physician.
The symptoms of breast cancer do not present themselves outwardly on any relevant timescale.
Unfortunately, when the media focuses greatly on a new infectious condition, breast cancer screenings tend to drop – and may drop quite a bit – meaning, there's a lot of cancer in a lot of boobs that's festering and growing secretly.
Though the death rate has been dropping slightly, by about 1.3% per year, the number of diagnosed cases is actually going up!
So while deaths attributed to breast cancer are declining, cases of breast cancer are not.
32 Years Old with Breast Cancer
When I was first diagnosed with breast cancer in February of 2017, I was 32.
I felt the lump in my left breast in the middle of the night as a shocking pain jolted me out of a deep sleep.
It was later diagnosed as stage 2A, triple negative, metaplastic breast cancer. This was completely out of left field for me. I had no family history and no genetic mutations to explain it.
For most women, traditional mammograms are set to begin at 40, which means it would have been another eight years before I should have found it.
By then, my five-year survival rate would have been much less favorable than the 70%+ that I faced that February.
My surgeon told me that patients who are diagnosed with stage 0 or stage 1 breast cancer have a five-year survival rate above 95%!
Self-Breast Exam Tips for Early Detection
1 – "The best time to perform an SBE is about 3-5 days after your period starts because your breasts are not as tender or lumpy at this time," says Starr Mautner, MD, a board certified and fellowship-trained breast surgical oncologist with the Miami Cancer Institute, who was also Jess's surgeon.
"If you have already gone through menopause or do not get regular periods, you can 'feel it on the 1stt' as an easy reminder to perform an SBE on the first of each month."
2 – Conduct your exam lying on your back, with your knees tilted to the opposite side of the breast you're checking.
3 – Always use the pads of your fingers, not the tips.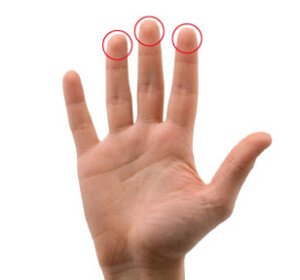 4 – Stretch your right arm above your head, rest the back of your hand on your forehead or behind your head and use your left hand to feel for anomalies in your right breast.
5 – Move your fingers in an up-and-down snaking pattern, starting from the outside (near your armpit) and work your way inward.
Your fingers should palpate in little circles, about the size of a nickel, and you should use three levels of pressure, one circle for each.
6 – Be sure to extend your check as high as your collar bone and as low as right below your bra line.
7 – As you reach the middle of your breast, move your right hand from your forehead to a 90 degree angle out to your side and continue to snake the inside half of the breast.
8 – Don't forget to check the nipple – palpate, but don't squeeze.
9 – Repeat this procedure on the left side.
10 – Look in the mirror, leaning forward and look at your breasts' shape, skin color, nipples and vein patterns.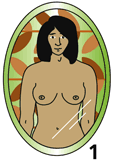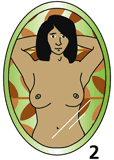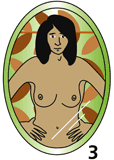 If at any point during your self-breast exam you feel or see something strange or out of place, schedule an appointment with your primary care physician or gynecologist.
As of 2020 there are 3.5 million breast cancer survivors in the United States.
It goes without saying that there's no good time to receive a cancer diagnosis – but sooner is certainly better than later!
Checking yourself regularly gives you the best chance of finding cancer early, and the best chance of beating cancer!
I'm going on three and a half years cancer free as of 2017, and as far as my body is concerned, it's as if the cancer were never there.
Set a monthly reminder on your phone if you have to, but don't skip your self-check!
And check out WARRIORGuidebook.com to read more about my battle!
"WARRIOR" delves deep into the ups and downs of Jessica Duemig's nine most challenging months as a single, career-driven woman taking on triple negative metaplastic breast cancer. Not a bitching session, "WARRIOR" is about a raw, real, uplifting journey, exploring the hard times, the weird stuff, the small victories and the "What the fuck do I do now?"
Dr. Mautner specializes in oncologic surgery including breast conserving lumpectomy, mastectomy, lymph node dissection and biopsy. At MCI she is the lead physician for breast surgery clinical trials.
.
Source for data: seer.cancer.gov/statfacts/html/breast.html
Top image: Shutterstock/offstocker