It's perfectly okay to worry about gaining weight while staying at home these days.
Here's how to prevent that. The "Fat Can Be Healthy" movement wants you to believe that you shouldn't worry about gaining weight while cooped up in your home for weeks.
This is just one more attempt on their part to keep the delusion alive that obesity or even moderate overweight has no negative impact on future health, the ability to conceive or mobility.
Do not let those very plus-size Instagram influencers, who are making money off of gullible, easily-manipulated women, guilt you into thinking there's something foul about worrying you'll pack on pounds during the stay at home orders.
Their mindset is akin to the teen smoker who's trying to get her friends to take up smoking. Promoting a bad habit makes her feel less guilty about engaging in it.
Why You Shouldn't Gain Weight While Staying at Home
Look, we're in the midst of an unprecedented crisis. We feel totally out of control.
Something the fraction of the size of a blood cell has taken over the world.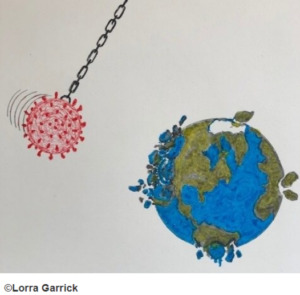 We can't see it. We can't stomp on it like it's a spider. We can't trap it like it's a mouse. We can't swat this invisible killer away with a fly swatter or track its movement in the air.
These facts have many people on edge, reinforcing perhaps a pre-existing feeling of helplessness in their lives.
The two things we CAN control are our eating and exercise habits. If we allow ourselves to gain excess fat simply because we're under a directive to stay home, this will compound feelings of powerlessness.
During a time of crisis and uncertainty, you must realize that holding onto good health and fitness is your key to preserving mental health and managing anxiety.
If you allow yourself to gain unhealthy fat weight, this will worsen your already dampened spirits. A 10 pound weight gain can lead to a 40 pound weight gain before you know it.
Quite frankly, if you're pissed off at how the world has been running lately, you can reclaim some level of control by sticking to a healthy way of eating and maintaining a home workout regimen.
Some people already have home exercise equipment, but what about those who were caught off guard by that deadly spiked sphere we keep seeing on CNN and in online news articles?
How to Work Out with no Equipment While Staying at Home
If the exercise equipment you want to order is out of stock, here's how to work out at home and help prevent putting on unwanted weight.
Bodyweight Exercises
Some great exercises are depicted below. If you're not very fit, you can modify these movements.
Standing Squat
Chair Squat
Pushup
Lunge Varieties
Dip
Triceps Press
Do you have a staircase?
• Go up and down, up and down, for 10 or 20 minutes nonstop.
• Fitter people can bunny hop up the steps for interval training.
• You can also go up and down two steps at a time. Go downward backwards one or two steps at a time as well.
• If you have dumbbells, carry these while stepping.
• You can also do step aerobics off the bottom step.
• Push the dumbbells (or a heavy ball if you have one) over your head while doing so.
No staircase? Do you have a step or two leading to your front door? Use that for stepping exercise.
Home Deadlifts and Squats
Stuff a box with weighty items, seal it with strong tape, and lift it repeatedly from the floor (keeping arms straight to mimic a deadlift) using good form.
If you have dumbbells, place them on top for a more challenging workout.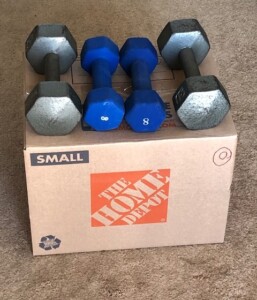 Hold the box at chest level and do squats. You can also simply walk around carrying the box — think of it as an alternative to the farmer's walk. Holding the box against the torso will work the arms BUT also the core!
Aerobics and Yoga
Trot around your home (include the staircase) while holding light dumbbells or soup cans. Run or jump in place. Throw kicks and punches.
Work on your yoga moves. Or take up yoga for the first time and challenge yourself.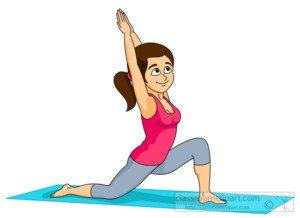 Preventing Weight Gain at Home
If staying at home has you feeling defeated, do not turn to food for comfort. At the same time, do not starve yourself or try any radical diets. Just be sensible.
Do not let a limitation on fresh produce lead you to stuffing yourself with junky non-perishables.
Adopting a "coping" type of eating habit can lead to skipped exercise sessions.
However, if you've gone off the wagon as far as eating healthfully, do NOT let this stop you from working out!
In this unraveling time, you'll be all the better with a swifter-moving, fitter and stronger body.
While you shouldn't panic over gaining weight at home, you SHOULD make fitness and weight management a priority rather than neglect them. Pay no attention to those very large Instagram influencers who want to share their guilt.
Lorra Garrick is a former personal trainer certified by the American Council on Exercise. At Bally Total Fitness she trained clients of all ages for fat loss, muscle building, fitness and improved health. 
.
Top image: Shutterstock/Inspiration GP