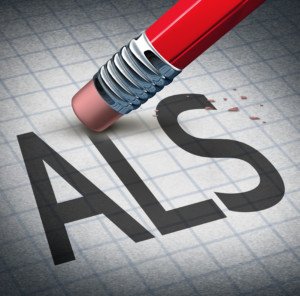 Just how random is amyotrophic lateral sclerosis (ALS) in the population? What percentages of its victims are ruthlessly stalked at random and struck down by this fatal motor neuron disease?
First off, up to 90 percent of patients with ALS report that there is no family history of this illness.
But this doesn't mean that 90 percent of ALS patients were randomly struck by this disease.
In fact, about 17 percent of cases might be caused by a genetic mutation, says a paper in the online issue of Neurology (June 21, 2017), the medical journal of the American Academy of Neurology.
When ALS seems to hit randomly, it's called sporadic. When there's a family history, it's called familial.
However, the symptoms in both versions are the same. So is the progressive nature of the disease.
Why Might the Random Cases of ALS Be Fewer than Previously Believed?
"In some families, people may die of other causes before ALS develops; they may be misdiagnosed, or in today's small families it's possible that few family members inherit the genes that cause the disease." says Summer Gibson, MD, of the University of Utah School of Medicine and member of the American Academy of Neurology.
How the Study Was Done
• 87 patients with ALS with no known family history underwent genetic screenings.
• All 23,000 genes of each participant were examined.
• 33 genes were linked to ALS.
• Not all genes that are associated with this disease are linked to causing it.
• The genes were compared to those of 324 healthy participants.
Study Results how random is als
• Rare gene variants linked to the disease were found in 22 of the 87 patients (25 percent).
• In the 324 healthy participants, 49 (15 percent) had these rare gene variants.
• Those with ALS were about twice as likely to have a gene variant that was linked to the illness when compared to healthy people.
There are rare gene variants known to be likely harmful. Seventeen percent of the ALS patients had those. But only four percent of the healthy people did.
This means that those with ALS were more than four times as likely to have these particular gene variants.
"Our results highlight that genetic factors play a significant role in the disease," says Dr. Gibson in the paper. "It is possible that a larger percentage of sporadic ALS cases have a genetic component."
Dr. Gibson adds that more research is needed to unveil other possible genetic variants connected to ALS, as well as discovering non-genetic factors possibly linked to the development of the disease.
Takeaway
In summary, a patient with no family history, who believes he "got" ALS randomly, may actually have a family history.
It's just that the other family members never developed the disease because they died (cancer, heart attack, car crash) prior to symptom onset or prior to seeing a doctor about symptoms that the family member may have kept secret for months.
And as the study mentioned, there's always a chance that a gene variant just didn't happen to get passed down to a couple's only child.
Study Limitations how random is als
• Participants were of European ancestry, so results may not be similar in other populations.
• Among the healthy subjects with genes linked to ALS, average age was 42. But the average age of onset for sporadic disease is 56. This triggers a thought: Maybe a few of the people in this study, who were deemed healthy, will eventually develop ALS years later.
Top image: Shutterstock/Lightspring
Source: sciencedaily.com/releases/2017/06/170621165937.htm

how random is als