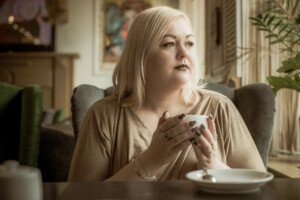 Numerous studies show that women over-panic when cancer is found in one breast and unnecessarily have the other healthy breast removed; no survival benefit has been proven.
"The only time I ever recommend preventative double mastectomy is in a woman who has the BRCA gene mutation," begins Dennis Citrin, MD, PhD, Medical Oncologist, Cancer Treatment Centers of America at Midwestern Regional Medical Center.
"It may also be considered in a woman who had upper mantle radiation therapy for Hodgkin's disease at a young age," continues Dr. Citrin.
"But for the vast majority of women who have cancer in one breast, there is absolutely no strong indication for the necessity of prophylactic removal of the unaffected opposite breast.
"The largest study that supports this was conducted by Kaiser Permanente where a 20 year follow-up of almost 250,000 women showed absolutely no increase in the cure rate for those women who opted for prophylactic mastectomy."
Choosing to have the healthy breast removed is called a contralateral prophylactic mastectomy (CPM).
Though the National Cancer Institute points out that a CPM can reduce the chances of the healthy breast ever developing cancer, the NCI also notes that it is not known whether or not this reduction extends long-term survival.
The risk of developing a second cancer (in the healthy remaining breast) is "very small," says the NCI site, in women who "do not meet the criteria of being at very high risk for developing a contralateral breast cancer."
The risk is small especially if the patient receives chemotherapy or hormone therapy, says the report.
A study published in the Journal of the National Cancer Institute (Bedrosian et al, 2010) states, "CPM is associated with a small improvement in 5-year breast cancer-specific survival mainly in young women with early-stage estrogen receptive negative breast cancer. This effect is related to a higher baseline risk of contralateral breast cancer."
That study had analyzed CMP in over 8,900 women.
Another Study
"Worry about recurrence appeared to drive decisions for CPM," states another study, appearing in the Journal of the American Medical Association Surgery (Hawley et al, 2014), "although the procedure has not been shown to reduce recurrence risk."
The bottom line here is that there simply does not exist any research or study that shows improved long-term survival in women who opt to have a healthy breast removed when the other has cancer.
Certainly there are women who decide to keep the healthy breast who have a much higher baseline risk of a contralateral malignancy—but they've chosen to take this gamble when they're aware of their exceptionally high risk.
Others may not even know they have a much higher-than-average risk (i.e., an adopted woman who has no idea that her biological mother and sister had disease at a relatively young age).
All of this isn't to say that zero percent of women, who decide not to have the healthy breast removed, will experience a recurrence of cancer in the healthy breast.
But as far as long-term prognosis, studies show that having the healthy breast removed in women who do not have BRCA mutations or other notably high risks for a second BC, really serves no medically logical purpose.
For more information on breast cancer treatment, contact Cancer Treatment Centers of America at (866) 942-6978.
Dr. Citrin, board certified in medical oncology with 30+ years' experience, devotes his practice exclusively to patients with breast cancer. He is the author of "Knowledge is Power: What Every Woman Should Know About Breast Cancer."
Lorra Garrick has been covering medical, fitness and cybersecurity topics for many years, having written thousands of articles for print magazines and websites, including as a ghostwriter. She's also a former ACE-certified personal trainer.
—
.
Top image: Shutterstock/T.Den_Team
Sources:
cancer.gov/types/breast/risk-reducing-surgery-fact-sheet
jamanetwork.com/journals/jamasurgery/fullarticle/1873911
ncbi.nlm.nih.gov/pubmed/20185801

Both Breasts Removed if One Has Cancer