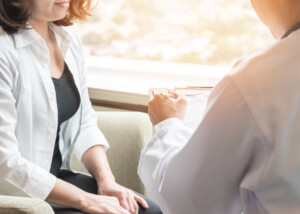 An abnormal Pap smear can return to normal on the next test in many cases.
"Cervical abnormalities found on Pap smears can be due to a number of causes," says Hilary Morgan, PhD, CNM, Jacksonville University, Director, Nursing Doctoral Program.
So it's not just cancer or precancer (hyperplasia) that can yield an "abnormal" Pap smear result.
Dr. Morgan continues, "Some Pap smears report abnormalities due to inflammation or infection. Treatment with medication will generally clear the abnormality.
"As women age and estrogen levels decrease, the Pap smear report may indicate abnormal findings due to atrophy of tissue.
"The woman's provider may prescribe vaginal hormonal cream to reverse the atrophy. In these instances treating the underlying cause of the Pap smear abnormality removes the irritant that is making the Pap smear abnormal, and subsequent Pap smears are likely to be normal."
Precursor to Cervical Cancer
"Cervical dysplasia, on the other hand, is due to the presence of the human papilloma virus (HPV)," says Dr. Morgan.
"A Pap smear report that indicates the presence of HPV needs follow-up with a gyn provider.
"The provider may opt to perform a special procedure called a colposcopy on the cervix looking for other cellular changes.
"Oftentimes, no treatment is necessary, but the patient returns for Pap smears at a more frequent interval. Follow-up Pap smears may be normal due to the body's ability to rid itself of the virus.
"After a succession of normal Pap smears done at more frequent intervals, the woman may soon return to routine Pap smear testing."
Get a Pap Smear Even if You're Rarely Sexually Active
If you're sexually active, even occasionally with only one partner, you should get a Pap smear on an annual basis or for as often as your gynecologist recommends.
For women who are virgins, here are guidelines just for them.
Dr. Morgan's interests include women's health. She is a retired Navy Nurse Corp Captain.
Lorra Garrick has been covering medical, fitness and cybersecurity topics for many years, having written thousands of articles for print magazines and websites, including as a ghostwriter. She's also a former ACE-certified personal trainer.
.
Top image: Shutterstock/Chinnapong