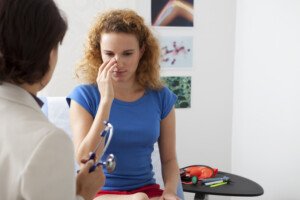 Though a burning feeling inside the nose isn't all that uncommon, neither is the No. 3 killer of Americans: cancer.
So it stands to reason that one might wonder if cancer can cause a burning feeling in the nose.
"Burning inside the nose can come from nasal dryness or nasal infections," begins Dr. Stacey Silvers, MD, of Madison ENT & Facial Plastic Surgery in NYC, who is board certified in otolaryngology; one of her specialties is sinus surgery.
"Staph infections in the nose are common and fairly localized. They can cause nasal pain and dryness with occasional bleeding and stabbing," continues Dr. Silvers.
Dryness
Cancer does not cause nasal dryness that would lead to a burning sensation in the nose. But changes in weather can.
The nose produces mucus. Dry air can dry out the nasal lining, leading to inflammation or cracking in this lining: There's your burning sensation.
Dryness can give rise to nosebleeds – and this symptom alone can make people wonder if they have leukemia, a type of cancer.
But nosebleeds from dry air will occur in both nostrils, whereas a leukemia nosebleed may occur in only one nostril.
In addition to dry air, temperature changes can result in a burning sensation in your nose due to constriction or dilation of nasal blood vessels.
Infections
The nose, due to it offering two portals to all sorts of microbes, is subject to infections.
Usually the result is a runny or stuffy nose, but sometimes a burning feeling could be present.
Allergies
Allergic rhinitis is notorious for causing a drippy nose rather than burning, but it can cause a burning sensation.
Allergens that find their way into the nasal passages will trigger an immune response leading to inflammation – leading to also congestion, itching, and of course, watery eyes and sneezing.
Allergens can range from pollen from outdoors to indoor dust, pet dander or perfumes.
Irritants from the air can also, from a mechanical rather than immune-response standpoint, cause bothersome symptoms. These types of irritants include smoke and chemical fumes.
Sinus Cancer
Did you know that cancer can grow in the nasal passages? This is called paranasal cancer or sinus cancer.
These tumors can cause an assortment of symptoms:
Feeling of congestion or stuffiness that persists
Unresolving nasal drip (though it will typically be from one nostril)
Frequent bleeding (typically from one nostril)
Visible bump on the nose
Nasal pain
Visual problems
Bulging in one eye
Change in voice
Difficulty opening the mouth
Reduced sense of smell
Headache
Loose teeth
Facial numbness
Despite all these possible symptoms of sinus cancer, a burning sensation in the nose is not noted in medical literature as a symptom.
A sufferer of sinus cancer also won't always have most of these symptoms.
Acid reflux can cause the inside of the nose to burn. If acid from the stomach is refluxed up into the throat, it can still continue upward and spurt into the nasal cavities.
This will burn. Of course, it will be quite obvious what the cause of the burning is.
Dr. Silvers adds, "If the nose is dry, nasal moisturizers can help with a humidifier, saline or nasal gels.
"If symptoms persist a culture is indicated and antibiotic ointments are the treatment.
"Rarely can a chronic connective tissue disorder present in the nose. If symptoms persist then see an ear, nose and throat specialist."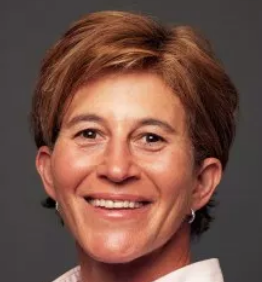 An NYC expert in ear, nose and throat care, Dr. Silvers has been named among America's Top Physicians and Surgeons in facial plastic surgery and otolaryngology multiple times since 2003.
Lorra Garrick has been covering medical, fitness and cybersecurity topics for many years, having written thousands of articles for print magazines and websites, including as a ghostwriter. She's also a former ACE-certified personal trainer.
.
Top image: Shutterstock/Image Point Fr