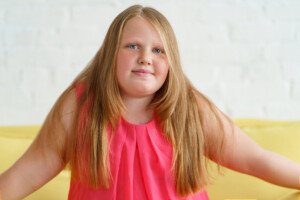 Here's why it's NOT wrong to teach your daughter that being overweight is unacceptable and that excess body fat CAN be a very bad thing.
There's been yet another Facebook post from a very plus-size woman who has a young chubby daughter.
The little girl already has a beer belly and hefty thighs. This may appear cute to some, but it's a harbinger of bad things to come.
Many parents find it unacceptable to allow their child to become even a little chubby.
They impose restrictions on sweets, junk food snacking and going for thirds on the mashed potatoes at suppertime.
To the particular bopo influencer on Facebook and also Instagram, this would come across as harsh, maybe even abusive.
But to the very health-conscious parents, they'd see the body image influencer as neglectful and too lenient.
So…which parent is right? Who's wrong?
Is it wrong to teach young girls that being fat is bad?
Well, look at it this way. Is it harmful to teach kids that smoking is bad?
"I am a big believer in positive mental image and think people should learn to respect themselves," says Susan L. Besser, MD, with Mercy Medical Center, Baltimore; Diplomate, American Board of Obesity Medicine and board certified by the American Board of Family Medicine.
"However, that doesn't mean turning a blind eye to a health problem.
"People of all ages should be honest about their health and work on being the healthiest person they can be.
"Having a healthy self-image is certainly a part of that.
"However, one can have a healthy self-image and still work on improving themselves, not blinding themselves to the realities of their health (which is what some of these bopo folks are doing)."
Just like when we preach about the dangers of smoking and drugs, teaching the dangers of obesity doesn't have to damage your young daughter's self-worth.
It's not wrong to train your children to believe that they actually can have fun at an amusement park without gorging on the junk food sold there.
The body positive mother's mission is to teach overweight women that it's okay to be obese and that it's okay to let your kids become overweight (which can lead to obesity — even morbid).
If a child is taught to believe that it's okay to carry excess weight, it just seems that maybe this youngster will one day think it's also okay to smoke or to have several alcoholic drinks out of boredom or to combat stress.
The body positive mom is teaching her plump daughter to accept her body no matter what.
But what if this child (who, according to the mom's Instagram posts, gets proportionately bigger every year) eventually weighs in at 200 pounds at age 12?
This is what "a little plumpness" can lead to.
Yet at the same time, it's crucial that parents do NOT use insulting words, any kind of shaming or nagging in their venture to teach their kids an appreciation for a healthy body weight.
Healthful eating habits and fitness activities should start early in life.
It's up to the parents to instill these values in their daughters (and sons) when they are young.
Dr. Besser provides comprehensive family care, treating common and acute primary conditions like diabetes and hypertension. Her ongoing approach allows her the opportunity to provide accurate and critical diagnoses of more complex conditions and disorders.
Lorra Garrick is a former personal trainer certified by the American Council on Exercise. At Bally Total Fitness she trained clients of all ages for fat loss, muscle building, fitness and improved health.
.
Top image: Shutterstock/Yuriy Golub