If you're struggling to accumulate 10,000 steps a day, no matter how many times you get up during TV commercials, leave your computer station or pace around every time you're on the phone, I have the solution:
It IS a Treadmill Desk
This brilliant invention is well worth the investment for people who struggle to get in their 10,000 steps a day quota.
If your workplace limits how much walking you can do, find out from your manager if a treadmill desk will be allowed at your work station.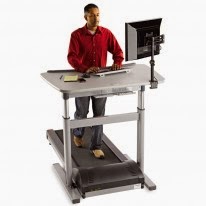 Of course, you'll have to purchase the unit, but once it's in place, you'll have no problem accumulating 10,000 steps a day.
If you want to get in the majority of the 10,000 steps while at home, rather than at the workplace, or if your boss won't allow a treadmill desk, then buy the device and have it set up at your computer.
Whatever you normally do on your home computer (reading celebrity articles, news articles, making posts on your blog, reading and writing e-mails, playing games, shopping), you can do while walking on the treadmill.
Your number of steps by the end of the day will dramatically increase, getting you closer to your 10,000 a day goal, maybe even exceeding it.
You should be able to set things up so that when you want to sit at your computer, you can do that as well.
In my case, I simply move my laptop from the treadmill desk to my regular computer desk in the same room.
The wireless connection makes this easier, though the electric cord must be carefully shifted about on the floor to accommodate the move. The mouse is simply placed on the keyboard.
Though I don't use a pedometer, and unfortunately, I don't have a translation for how much time on a treadmill desk converts to 10,000 or even 5,000 steps, I do know that I'm getting in a serious number of steps daily.
Lorra Garrick is a former personal trainer certified through the American Council on Exercise. At Bally Total Fitness she trained women and men of all ages for fat loss, muscle building, fitness and improved health.