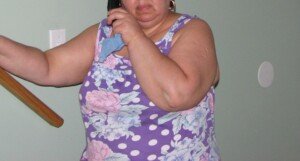 How can religion lead to obesity?
Or is it that very overweight people are drawn to organized religion? What's truly going on here?
The link between middle age obesity and religion has already been established.
What researchers wanted to know is the cause-and-effect relationship between religious involvement and obesity. So researchers from Northwestern Medicine decided to find out.
"We don't know why frequent religious participation is associated with development of obesity, but the upshot is these findings highlight a group that could benefit from targeted efforts at obesity prevention," says Matthew Feinstein, the study's lead author, in the report.
The research tracked weight gain over a period of time, establishing that obesity comes after the religious involvement, not the other way around.
In the study, 2,433 women and men were tracked for 18 years. The findings in adults 20 to 32 years old was very intriguing:
If they had a high level of religious participation (at least once/week), they were 50 percent more likely to develop obesity by the time they hit middle age.
Variables of age, race, education, gender, income plus baseline body mass index (BMI) were adjusted for.
Does this mean that attending religious functions is bad for your health?
The study authors insist no. In fact, past studies show that "religious" people do tend to live longer than those who aren't into religion – partly because faithful people tend to avoid smoking or smoke less.
"I am not familiar with this study, but personally I can see a correlation," says Susan L. Besser, MD, with Mercy Medical Center, Baltimore; Diplomate, American Board of Obesity Medicine and board certified by the American Board of Family Medicine.
"I am a religious Jew — I attend regular synagogue services and participate in all religious events.
"These events generally include festive meals (read: more food, larger portions). So I can understand why weight gain might happen."
Another possible explanation is that some religious or deeply faithful people are more apt to put their health in God's hands.
Therefore, concern over diet, portions, exercise and weight wouldn't be a high priority – hence leading to obesity.
Dr. Besser provides comprehensive family care, treating common and acute primary conditions like diabetes and hypertension. Her ongoing approach allows her the opportunity to provide accurate and critical diagnoses of more complex conditions and disorders.
Lorra Garrick is a former personal trainer certified through the American Council on Exercise. At Bally Total Fitness she trained women and men of all ages for fat loss, muscle building, fitness and improved health.
–
.
Top image: Alexisrael, CreativeCommons
Source: sciencedaily.com/releases/2011/03/110324104145.htm