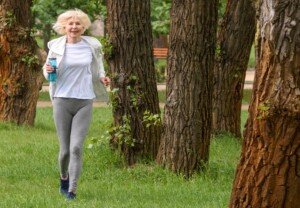 If you've been running for years but are wondering if now you're too old to jog, here is some striking information you can't ignore.
There was an older runner, a woman in her early 60s, who jogged five mph for 30 minutes every day on a treadmill at the health club I frequented.
One day I noticed she was walking. Every time I saw her after that, she was walking: zero incline, medium speed.
Assuming she was injured, I asked her about the walking.
She said her doctor told her she was too old to run and that she should stop, even though she had no pain! The directive was based on strictly her age!
I was a personal trainer at the time and told her that the bone density that she had built up from the weight bearing effects of running would begin wearing off.
Why quit running if it doesn't hurt?
This was something her trim body was used to; why suddenly stop, even if she was getting older?
"Seniors who are already jogging do not need to walk instead for safety reasons," says Monica Charlton, certified personal trainer and Silver Sneakers certified trainer at All Inclusive Health, a personal training studio in New Orleans.
"Elderly runners are more efficient at walking than their counterparts who do not run.
"High walking proficiency correlates with better mobility and lower morbidity rates. Overall, jogging helps slow and reduce age-related physical decline."
Study: Keep on Running Even if You're "Old"
A Stanford University School of Medicine study showed that in apparently healthy aging runners, the activity did not damage their joints; and that if you're injury-free, you should keep on running, even into your 80s.
The biggest risk to the older runner is over-training, but this risk also exists with younger runners.
The study also showed that older runners are less likely to succumb to heart problems, cancer, stroke or infection than are sedentary peers.
"The survival rate of the runners was again twice that of the controls," says study author Dr. Eliza Chakravarty in the paper.
She adds that the older subjects took 16 years longer than the sedentary controls to reach certain disability levels.
The study doesn't mean that running is the only exercise that produces these results.
But the study definitely shows that older age alone is no reason to quit this type of exercise…like that woman at the gym, and her doctor, believed it was!
All Inclusive Health's training services include fitness/body composition assessments, nutrition planning, running programs and customized programs for clients with disabilities or injuries.
Lorra Garrick is a former personal trainer certified through the American Council on Exercise. At Bally Total Fitness she trained women and men of all ages for fat loss, muscle building, fitness and improved health.
.
Top image: Depositphotos.com
Source: content.time.com/time/health/article/0,8599,1832033,00.html