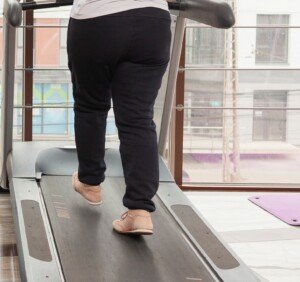 A study says that obese people exercise more than previously believed, but how objective were the patients at reporting their exercise habits?
Obese people exercise more than we may think, concludes research from Case Western Reserve University's Frances Payne Bolton School of Nursing.
As a former certified personal trainer I find the mechanism of this research to be quite questionable.
Not that I'm an expert in data analysis, but the information about exercise habits of the obese, and overweight, came from the participants themselves.
(The full report is in the May 2011 Journal of the American Academy of Nurse Practitioners.) This was a purely subjective collection of data, with no way to back it up.
The obese or overweight patients answered questions about exercise habits that were given on several behavioral tests, when the patients paid visits to clinics that were owned or run by nurse practitioners, the location being Spokane, Washington.
The 175 patients were 40-plus years old and had a body mass index of at least 25 to over 40. A BMI of 25 to 29.9 is overweight. A BMI of 30 or more is obese.
According to the responses to the tests, 29 percent of the patients had been working out for six months, but the bigger shocker was that – according to test answers – 39 percent of these obese or overweight patients exercised on a regular basis.
Now, can we really believe these subjective reports about exercise?
I'm not suggesting that overweight and obese patients at medical clinics will intentionally lie on a test out of fear of appearing lazy.
It's just that often, people who hardly do any structured exercise actually believe that they exercise a lot.
I have witnessed this phenomenon with my own mother, whose BMI at the time was near 25, when doctors asked her about her exercise habits.
She truly believed she got all the physical activity that she'd report to them. Somehow, standing in one spot outside and tossing a ball to the dog became "running in the yard."
Many women, regardless of size, consider housework to be a form of strength training and a cardio workout, and will include this in their subjective reports of exercise habits.
Doctors would ask my mother, "Are you active?" And she'd say "Very!" So I wonder how generic, or specific, the questions were for the nurse clinic study.
"Do you exercise?" will get a more affirmative answer than, "Do you do any cardio activities like using cardio equipment, a cardio class like step aerobics, fitness walking outdoors, jogging, tennis, or swimming laps?"
Guilt over lack of exercise could easily motivate the obese or overweight person to subconsciously fudge on the answers.
Or, if they bowl in a league, this to them is "regular exercise." I'm not bashing anyone here; I'm just stunned that the study authors could take subjective responses (to what I'm betting were generic questions) so seriously.
As a former personal trainer, I never asked new clients, "How much exercise have you been getting?"
I instead was very specific:
"Have you been using a treadmill or other cardio equipment?
Taking group fitness classes?
Do you play any sports like tennis or basketball?
Have you been lifting weights at all?"
Source: .sciencedaily.com/rele
Lorra Garrick is a former personal trainer certified through the American Council on Exercise. At Bally Total Fitness she trained women and men of all ages for fat loss, muscle building, fitness and improved health.
.
Top image: Freepik.com