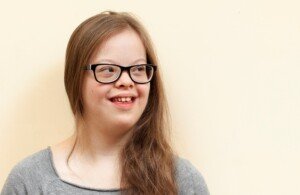 Let's assume that your child with Down syndrome has been given the okay by his or her physician to exercise.
What's the best exercise for a child with Down syndrome?
This is open to debate, as some parents will swear by swimming, while others will swear by equestrian, tennis, even ballet.
"Children and teenagers with Down syndrome participate in less physical activity than other children because of their developmental delays and disabilities," says Julie Joffrion, owner at All Inclusive Health, a personal training studio in New Orleans that offers options to those with disabilities.
"This lack of exercise helps contribute to the high numbers of obese children, and adults, with Down syndrome.
"Exercise is incredibly important for a child or teenager with Down syndrome. With regular exercise, a person will have an easier time walking and getting around while increasing their breathing capacity."
"Exercise" doesn't necessarily have to be routines with weights, heavy balls, balance boards and tension bands — even though all of these implements are great.
There is one particular form of exercise that few parents of kids with Down syndrome would ever consider.
It is the martial arts.
Martial arts is actually a LOT safer for ANY child, including those with Down syndrome, than more popular forms of exercise such as team sports, skiing, figure skating and gymnastics — which are Special Olympics sports by the way.
Perhaps the form of exercise most likely to send your child to the emergency room with injuries is — believe it or not — riding a bicycle.
According to the Centers for Disease Control, every year about 250,000 riders in America under the age of 20 sustain bicycle related injuries requiring ER care.
I've spent many years in the martial arts and saw fewer injuries occur than I did when playing volleyball (another Special Olympics sport) for the same number of years.
In the martial arts I had seen several juvenile students with Down syndrome — including a teenage girl with a black belt in karate.
What About Coordination?
The mother of the teen girl told me that karate dramatically improved her daughter's coordination and expedited her mastery of staying balanced on a bicycle.
"Balance activities are great to help build up coordination and stability," says Joffrion.
"Let your child hold onto the side of a bar or bench at your gym and work on lifting one leg at a time."
Moves like this can be seen in children's martial arts classes, since even non-handicapped students may have trouble with balance.
In the martial arts, students are judged individually, and a quality instructor knows that students progress at their own pace.
The mother of the teen girl informed me that several other female students were eager to "take her under their wing" when the girl first joined at age eight.
CAN kids and Teens with Down Syndrome Truly Learn Martial Arts?
Young people with Down syndrome have been participating and competing in many sports for years: downhill skiing, gymnastics, soccer, basketball, track and field, tennis, even hockey.
Obviously, the more academically higher functioning the athlete, the more they will learn in ANY physical endeavor, and the more proficient they will become.
And just because the venue is usually Special Olympics doesn't mean that this doesn't count.
The larger the Special Olympics event (local vs. regional vs. national), the more likely you'll see athletes with remarkable skills.
At one large Special Olympics I saw a teen girl with Down syndrome captivate the crowd with her gymnastics routine.
She was good enough to be on a mainstream high school level team.
Supreme Benefits of Martial Arts
The major benefit about martial arts is that the child with Down syndrome won't feel pressure to score points, aim a ball or do other things on a court or field that's expected in team sports.
Gym Workouts for Kids and Teens with Down Syndrome
Joffrion explains, "For children and teenagers with Down syndrome, work on strengthening all parts of the body. At the gym, look for light weights to start, and then build in moderation to increase strength.
"Resistance bands are another great piece of equipment to help children with Down syndrome get used to working their muscles before they hit the weights.
"Keep in mind that exercise should always be monitored and done in a reduced capacity.
"For people with Down syndrome, the oxygen cost is higher which will result in the premature onset of fatigue.
"There are also limitations to using heart rate as a measurement when it comes to exercise. Individuals with Down syndrome exhibit a 20-25% lower maximal heart rate."
Another gym option is low impact cardio classes or an easier level of group fitness classes.
All Inclusive Health's training services include fitness/body composition assessments, nutrition planning, running programs and customized programs for clients with disabilities or injuries.
Lorra Garrick is a former personal trainer certified through the American Council on Exercise. At Bally Total Fitness she trained women and men of all ages for fat loss, muscle building, fitness and improved health. 
Top image: Freepik.com
Source: cdc.gov/healthcommunication/toolstemplates/entertainmented/tips/HeadInjuries.html