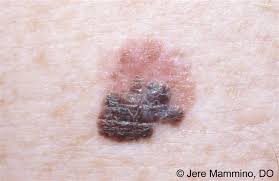 A study involving over 51,700 melanoma patients revealed that two particular locations on the body are more likely to have a fatal melanoma.
And that's the scalp and neck.
Patients with melanoma located in these areas had a 1.84 higher rate of death when compared to patients with this skin cancer on the extremities.
The increased mortality of melanoma in these two locations of the body was consistent even when other factors were adjusted for, such as gender, age and tumor thickness.
"Scalp and neck melanomas patients have a higher rate of death," says senior study author Nancy Thomas, MD, "than patients with melanoma anywhere else on the body."
To put this in perspective, consider:
• Scalp and neck melanomas account for six percent of patients.
• These same locations account for 10 percent of the deaths.
Though scalp tumors may be missed due to being covered by the hair, this actually is not a factor in the increased mortality. Neither is the possibility of people not being able to closely inspect the back of their neck.
The location, in and of itself, is an independent indicator of increased mortality.
Why are the neck and scalp associated with more lethal melanomas?
Dr. Thomas can't really explain this, other than she thinks "there's something different about scalp and neck melanomas," says the report (Arch Dermatol. 2008;144[4]:515-521).
Key to survival of melanomas in these particular areas of the body is an early diagnosis.
An early diagnosis is contingent upon discovering the skin cancer in the first place. An annual exam by a dermatologist is crucial for a thorough scalp inspection.
This is in addition to self-inspections of this area, which, along with the rest of the body, should be conducted once a month.
Get to know every mole on your neck and scalp. In addition to these measures, have images of any moles in these areas taken as part of serial digital dermoscopy.
This technology takes pictures of your moles and feeds the images into a computer database where they are then compared to actual melanomas and rated as being normal to suspicious.
If suspicious, you will be urged to have the mole biopsied. Images are taken of the moles every year and compared to past images. So, that first set of images serves as the baseline.
In addition, always inspect non-mole sections of skin for new spots.
In summary, the two areas of the body where melanoma is most likely to be fatal are the neck and scalp, and the reason is not understood.
Lorra Garrick has been covering medical, fitness and cybersecurity topics for many years, having written thousands of articles for print magazines and websites, including as a ghostwriter. She's also a former ACE-certified personal trainer for Bally Total Fitness.
.
Source: http://Source: sciencedaily.com/releases/2008/04/080421170258.htm