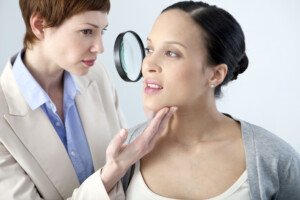 "The development of a rash on the cheeks, indicated by bumps, swelling and redness to the skin, is the result of the body's natural inflammatory reaction," says Dr. Jennifer Gordon, who is board certified by the American Board of Dermatology and practices at Westlake Dermatology located in Austin, Texas.
Causes of Red Rash on the Cheeks
"The source of cheek rashes can vary from a mild cause such as exposure to an allergen or the sun, to a more serious cause like a medical disease," says Dr. Gordon.
"Rashes can occur on individuals of any age and can manifest on a single cheek or both cheeks."
Often, a person will describe what they see as a "rash" simply if it's reddish or pinkish and characterized by spots, splotches, patches or bumps.
"The rash itself can greatly vary in appearance depending on the source," says Dr. Gordon.
"Rashes can vary in color (red, white or purple are common), may be symptomatic (itching, burning, pain) and can have different textures (flat, bumpy, raised or scaly).
"Additionally the rash can be accompanied by scaling or peeling skin.
"The most common causes of cheek rashes include acne, rosacea, allergic reactions, dermatitis and eczema.
"These causes do not result in permanent risks to one's health, and the rash can be successfully treated by a treatment plan created by your dermatologist."
Rash on Cheeks Caused by Rosacea
Dr. Gordon explains, "Rosacea is one of the most common culprits for persistent redness on the face. It is very common and occurs primarily on the face of adults.
"Common symptoms of rosacea include redness and rash development along the cheeks, nose, and sometimes the forehead and chin. Often acne-like bumps, sun-sensitivity and flushing can also occur.
"Additionally, rosacea usually causes small blood vessels to be visible on the surface of the skin.
"While there is no cure for rosacea, medicines and laser can help control the rash. And don't forget your sunscreen!
Serious Causes of "Rash" on the Cheeks
"In rare cases, the development of a rash on the cheeks is an indicator of a more severe medical disease or condition like shingles, severe infections or diseases such as systemic lupus erythematosus," says Dr. Gordon.
Another cause of what appears to be a "rash" is a condition called actinic keratosis (sun damage).
This is actually quite common in people over age 40. It's characterized by pinkish-reddish patches on the face that feel almost like sandpaper to one's fingertips rubbing along these lesions.
These lesions are easy to miss until they begin progressing. They are removed via liquid nitrogen sprayed onto them by a dermatologist, or with a prescription ointment.
These lesions absolutely must be removed, because they're made up of atypical skin cells.
This means they are more likely than surrounding typical cells to eventually morph into a form of skin cancer called squamous cell carcinoma.
It's estimated that if left untreated, 10 percent of AKs will develop into squamous cell carcinoma.
Because cheeks get a lot of sun exposure, the "rash" of actinic keratoses commonly occurs in this location, though other common locations include the nose, and scalp of bald men. These patches do not itch or produce pain.
"If your rash is unresponsive to treatments and persists, it is very important to see your medical care provider right away," says Dr. Gordon.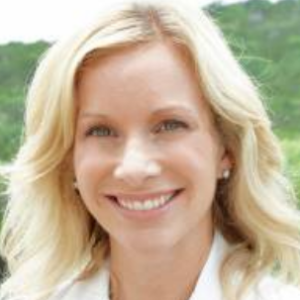 Dr. Gordon's interests include medical dermatology, particularly the treatment and prevention of melanoma and other skin cancers in athletes. For 2016, 2017 and 2018 Texas Monthly Magazine selected her as one of the Texas Super Doctors Rising Stars.
Lorra Garrick has been covering medical, fitness and cybersecurity topics for many years, having written thousands of articles for print magazines and websites, including as a ghostwriter. She's also a former ACE-certified personal trainer.
.
Top image: Shutterstock/Image Point Fr