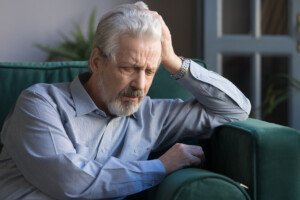 If you're depressed over retirement and thinking of ending it all, here's what happened to a 68-year-old, newly retired man who considered suicide.
He's a relative of mine and I'll call him Raymond. When he was around 68, he retired.
In a personal journal that was discovered many years later, he described the days as being empty because he no longer had to get up at a certain time every morning and report somewhere.
He moved out West with his wife to live out his retirement.
Instead of being ecstatic over freedom, Raymond felt doomed and thought of "ending it all."
This revelation in the journal stunned relatives, as nothing wrenching had been going on in his life at that time.
His wife was all he could ever want in a wife. He now had more time with her. But he had written something to the effect of:
"I'm 68 now. My life consists of nothing but my history. I've done everything. There is nothing left to live for. No point in going on."
Are you newly retired or about to retire, and have similar feelings?
"Transitions in life are always a stressful time full of adjustment," says Rupali Chadha, MD, former chief of medical staff at Metropolitan State Hospital in Norwalk, CA.
"Risk factors for suicide in general are age (a spike in teens and in the elderly), male gender, white ethnicity, recent loss, lack of social connectivity, death of a spouse or child and financial stressors to name a few.
"We can see that retirement may come at a later age and lead to more social isolation, a lack of feeling of purpose.
"The best ways to handle transitions is to be prepared and have a network. Family, friends, church, a community center and have activities attached to these things.
"If you lose complete ability to feel pleasure and start having thoughts of suicide, see an MD psychiatrist as soon as possible, or at least your MD internist!"
What happened to Raymond?
Raymond's key comment was, "My life consists of nothing but my history."
By the time Raymond was 91, those depressed feelings over retirement had become 23 years old. What had happened during those 23 years?
By the time he was 91, his past 23 years had become a rich history that, at age 68, he believed was an empty future.
The history he's had over the past 23 years is the future at age 68 he couldn't conceive.
This is depression.
At age 68, he had only one grandchild. "My life is only my history."
But new history was created in the years since Raymond's retirement. This includes:
– A grandchild becoming one of the highest ranked junior golfers in the U.S.
– A grandchild graduating from medical school
– 13 grandchildren total
– Memorable experiences with the grandkids, including watching the golfer at his tournaments and watching a granddaughter play in volleyball tournaments
– Many trips with his wife, including to Las Vegas, Hawaii, Disneyland, the mountains and to his kids' homes
– Nine memorable years with a dog he acquired in his late 70s
– Heavy involvement in bridge clubs and bowling leagues
– And so much more
Retirement Doesn't Have to Mean Depression
It's WORK that causes depression, anxiety and all sorts of sicknesses.
Study after study about work shows that the workplace increases the risk of all sorts of maladies including heart disease, type 2 diabetes and cancer.
Work is associated with obesity, hearing loss, mood disturbances, relationship problems and high blood pressure.
You've certainly heard of workplace bullying. To date, there is NO such thing as retirement-place bullying.
You've heard of workplace hostility. Ever hear of retirement-place hostility?
Who gets headaches while on the golf course or fun day trip? Plenty of people get headaches on the job.
Go to any workplace setting where there are large amounts of people confined to the indoors.
Don't be surprised if one out of two have a bottle of aspirin in their desks. There's a reason for that.
In addition to general psychiatry, Dr. Chadha is also a forensic psychiatrist who treats the brain conditions of the criminally insane and serves as an expert witness in trials. She has a passion for fitness plus how the body, mind and spirit come together to build a healthy individual.
Lorra Garrick is a former personal trainer certified by the American Council on Exercise. At Bally Total Fitness she trained clients of all ages for fat loss, muscle building, fitness and improved health.
.
Top image: Shutterstock/fizkes
–