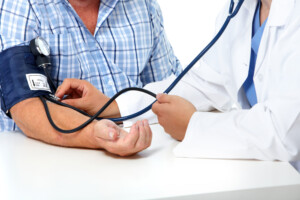 Whey protein may be a safe, cheap way to lower high blood pressure, a possible alternative to drugs that have side effects.
Lowering high blood pressure means cutting down on stroke and heart disease risk.
Whey Protein and Blood Pressure: Study
A study out of Washington State University found that daily consumption of whey protein resulted in at least a six-point reduction in average blood pressure of women and men who had pre-existing high blood pressure.
Though the 71 study participants were between 18 and 26 years, the study's leader, nutritional biochemistry professor Susan Fluegal, says that older people with high blood pressure would probably get similar benefits from the whey protein.
Whey protein is low-cost and has not been linked to any adverse effects, says Fluegal in the International Dairy Journal paper.
In this study, results showed up in the first week and they lasted for the study's six-week duration.
However, there were no results for study participants who had pre-existing normal blood pressure.
Whey Protein: Cause and Effect when It Comes to Lowering Blood Pressure
There may be a correlation between whey protein and a reduction in blood pressure readings, but a direct cause-and-effect has not been established.
"The Fluegal study and other studies supporting that whey protein can help reduce blood pressure have several variables that need to be researched further to ensure these findings are completely accurate," says Dr. Keith Kantor, a leading nutritionist and CEO of the Nutritional Addiction Mitigation Eating and Drinking (NAMED) program, which treats substance abuse, mental illnesses and other illnesses.
Dr. Kantor explains, "I will say that the whey protein used in the studies was not sweetened — which results in less of an impact on insulin levels, resulting in less inflammation — which can help reduce high blood pressure if the person is consuming whey protein on a consistent basis.
"Whey protein is also very filling, which indirectly can reduce cravings and the consumption of processed and fried foods which both are linked to increased risk for high blood pressure."
If you have hypertension, don't assume that having a whey protein drink every day — all by itself — will knock it down.
Lower Your High Blood Pressure
Feel free to add whey protein (no sugar added) as a convenient break from meat, poultry and eggs. But to treat hypertension, you should do the following:
Lower salt intake. Speak to your doctor about this.
Increase intake of fruits and fresh vegetables.
Replace refined grains with whole.
Take up strength training and cardio exercise.
Lose excess weight.
Quit smoking or don't ever start.
Dr. Kantor has a PhD in nutritional science and a doctorate in naturopathic medicine, has appeared on CNN and Fox News Channel for his expertise, and has been an advocate of natural food and healthy living for 30+ years.
Lorra Garrick has been covering medical, fitness and cybersecurity topics for many years, having written thousands of articles for print magazines and websites, including as a ghostwriter. She's also a former ACE-certified personal trainer.
.
Top image: Shutterstock/ kurhan
—
Source:
sciencedaily.com/releases/2010/12/101208125624.htm