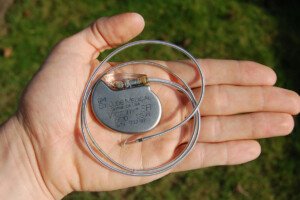 Do you have a pacemaker and are wondering if it can also prevent atrial fibrillation?
A-fib is a common heart rhythm disorder that puts a person at considerably increased risk of a blood clot — which could lead to a heart attack or a stroke.
"Pacemakers do not prevent atrial fibrillation, or at least that is not an accepted clinical indication for implantation of a pacemaker," says Lawrence Kanner, MD, Director, Electrophysiology/Arrhythmia Services, South Nassau Communities Hospital.
He further explains, "Pacemakers are devices that prevent slow heart rhythms. They will allow the heart to go as fast as it wants.
"If your heart wants to go 200 beats a minute (either top or bottom chamber — atrium or ventricle), a pacemaker for the most part just watches.
"But a pacemaker will never let the heart go slower than its programmed lower rate.
"However, modern pacemakers will detect episodes of atrial fibrillation, as long as there is a lead (wire) in the atrium."
Thus, don't ever assume that somebody can't possibly experience an episode of atrial fibrillation just because they have a pacemaker.
A doctor who suspects that a patient has an abnormal heart rhythm will want that patient to wear a portable EKG.
With this portable EKG, every time the patient feels a suspicious symptom (such as a sudden pounding in the chest), they press a button and the device will record the electrical activity of their heart at that moment.
This data is then eventually printed out and interpreted by a cardiologist.
More on Atrial Fibrillation
The patient may feel what they describe as palpitations: an erratic heartbeat, or the sensation of the heart "flip flopping."
The patient may also report a reduced capacity for exercise, or an unexplained fatigue.
Feeling lightheaded or dizzy are two more symptoms of atrial fibrillation.
This heart rhythm disorder can also cause pain in the chest.
These symptoms have many other possible causes, and not always heart related.
Atrial fibrillation is a risk factor for ischemic stroke, so if you're having any of these symptoms — see a cardiologist.
Dr. Kanner cares for patients with a variety of cardiac rhythm disorders plus congestive heart failure, with medications, pacemakers, defibrillators and the latest in advanced cardiac ablation techniques.
Lorra Garrick has been covering medical, fitness and cybersecurity topics for many years, having written thousands of articles for print magazines and websites, including as a ghostwriter. She's also a former ACE-certified personal trainer.
.
Top image: Shutterstock/Steven Fruitsmaak