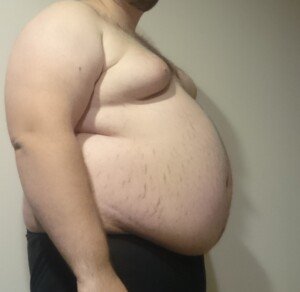 If you consider yourself healthy despite being fat, high blood pressure and a thickened heart muscle may be lurking around the corner –
EVEN if you have normal blood pressure and blood sugar now.
Obese people often hear, "Just you wait, you'll pay the price in the years to come."
However, more research shows that being young doesn't always protect very heavy people from the dangers of obesity.
In young adults, overweight may still cause high blood pressure and a thickened heart muscle.
Thickened Heart Muscle: a Hidden Problem that Doesn't Show up in a Routine Physical
It's great when your biceps or thigh muscles becomes thickened from exercise.
But the heart muscle (which is not the same as skeletal muscle) should NEVER become thicker.
It's very bad news when it thickens. When cardiac muscle thickens, this paves the way for heart disease down the road.
"Chronic obesity definitely causes thickening of the heart and blood vessels," says Susan L. Besser, MD, with Mercy Medical Center, Baltimore, and Diplomate American Board of Obesity Medicine and board certified by the American Board of Family Medicine.
"This is usually asymptomatic and goes undiscovered until the long-term damage shows up — such as heart disease.
"A simple CT scan of the chest will show this thickening, but this is NOT a routine test done for screening and does have its own risks (like radiation exposure).
"The changes can show up early too, in late adolescence or early adulthood. The good news: It can be reversible with improved lifestyle (weight loss)."
A study that appears in Circulation (2018), led by Kaitlin H. Wade, PhD, is the first to investigate the effects of high body mass index (BMI) in young adults.
Data on several thousand healthy people, ages 17 to 21, was collected.
Fat and Healthy NOW, Poor Health Later
If your blood work is currently normal and your blood pressure is normal today, this is but a snapshot in time.
Normal blood sugar and BP do not tell doctors whether or not your heart muscle is thicker than it should be.
Nor will low cholesterol show this.
The researchers determined that excess body fat raised blood pressure and enlarged the heart's left ventricle.
Just because thin people can have high blood pressure and an enlarged left ventricle doesn't mean that these problems can't be caused by obesity – or made easier to develop by obesity.
"Thickening of vessel walls is widely considered to be the first sign of atherosclerosis," says Dr. Wade in the paper.
"However, our findings suggest that higher BMIs cause changes in the heart structure of the young that may precede changes in blood vessels," continues Dr. Wade in the report.
Having good health isn't just about the here and now, but about how to preserve it for many years to come.
Dr. Besser provides comprehensive family care, treating common and acute primary conditions like diabetes and hypertension. Her ongoing approach allows her the opportunity to provide accurate and critical diagnoses of more complex conditions and disorders.
Lorra Garrick is a former personal trainer certified through the American Council on Exercise. At Bally Total Fitness she trained women and men of all ages for fat loss, muscle building, fitness and improved health.
.
Top image: FatM1ke, CC BY-SA
Source: sciencedaily.com/releases/2018/07/180730090149.htm
i