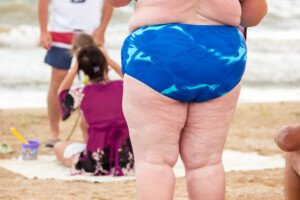 If you're obese, you have yet another health hazard to worry about: pancreatic cancer, especially if your body mass index exceeds 35.
Thirty and over is considered obese, and people with a BMI of over 35 have a greater risk of having a malignancy that has spread to the lymph nodes, plus a lower rate of survival, and a higher rate of recurrence after surgery for pancreatic cancer.
A study involved 285 pancreatic cancer patients who underwent surgery involving the pancreas, to treat their disease, between 1999 and 2006. Data was collected regarding the surgery, BMIs and outcomes.
The study was conducted by The University of Texas M. D. Anderson Cancer Center, Houston.
The study points out that in many obesity related conditions and cancers, a higher prevalence of pancreatic cancer was reported in many epidemiologic and cohort studies that focused on obese adults.
There's more: Obesity was found to be linked to reduced survival in those with pancreatic cancer.
Seventy-five percent of the patients, who had a BMI of over 35, ended up dying, as of the time of the last follow-up, compared to 52 percent of the patients who had a BMI of 35 or less.
The heavier patients had lower estimated survival rates and disease-free rates. In the obese patients with a BMI of over 35, 95 percent had recurrence of their pancreatic cancer.
In the patients with a body mass index of 35 or lower, 61 percent had a recurrence.
This is not the only study to show an association between obesity and pancreatic cancer outcomes. Previous studies have shown similar results.
Thus far, the dynamics behind this association have not been discovered, and more research is needed.
Struggling with Obesity?
If you're struggling with obesity, then make exercise a priority. If you're already exercising, then make sure it includes cardio and strength training. Don't just do cardio.
Both women and men need to work out with resistance, and not just tiny little dumbbells.
Many plus-size women avoid lifting weights because they think this will make them bigger. Wrong.
Lifting weights will force the body to burn fat for sustenance of new lean tissue gained from the exercise.
You will drop dress sizes and along the way, lower your risk of pancreatic cancer by becoming less obese.
Guidelines for Obese People Who Are New to Strength Training
First off, remind yourself that body positivity includes doing what it takes to reduce the risk of obesity related cancers such as pancreatic.
Next, develop good form before you push for heavier resistance. If you're not sure about the form of a particular exercise, it's smarter to ask a personal trainer than to copy the next person you see doing the same exercise, since that person may be doing it with poor form.
Third, do not be self-conscious about walking into a gym. Everyone there has goals. Lowering the risk of pancreatic and other cancers should trump any feelings of self-consciousness.
Fourth, each set should be about eight to 12 or so repetitions. And each set should be challenging. Do not merely go through the motions.
If you're not losing much weight despite faitihfully controlling your diet, you're not working out hard enough. Up the ante. Push yourself without sacrificing good form.
Lorra Garrick is a former personal trainer certified by the American Council on Exercise. At Bally Total Fitness she trained clients of all ages for fat loss, muscle building, fitness and improved health.
.
Top image: Shutterstock/ Lyashenko Egor
Source: sciencedaily.com/releases/2009/03/090316173315.htm