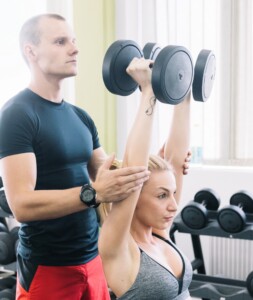 What's the point in going to college to major in personal training, when you can just study for a certification test?
Some colleges now actually offer a major in personal training.
Just how many college students have actually declared a major in personal training.
The educational materials, plus test, that I took for my certification cost a total of around $300.
How much will four years of college cost? A lot more than $300. If you want to be a personal trainer, you absolutely do not — I repeat — do not, need to attend college!
Do not get confused over the fact that many personal trainers have college degrees in one or more of the following: physical education, kinesiology, exercise physiology, sports medicine, or exercise science.
These specific majors are not the same as a major in personal training. Personal training is not sports medicine, exercise science or kinesiology.
Some people will get a degree in one of these fields, and then pursue certification in personal training from a reputable certifying organization such as the American Council on Exercise, or the National Academy of Sports Medicine.
With a college degree in an exercise-related field, plus a personal training certification, this person has significantly expanded his or her career opportunities, since many enterprises that hire fitness professionals not only require the personal training certification, but a college degree in a "related field."
A person may get a certification in personal training and then pursue the college degree in a "related field" — again, to expand career opportunities.
Another reason could be simply that this individual wishes to expand his knowledge of muscle science, and make that knowledge official with a college degree.
He then still ends up working at a gym, where the only requirement for employment is just the personal training certification.
Bally Total Fitness did not require a college degree in personal training at the time of my application, though you'll want to get the most current information, as requirements can change over time.
In fact, I don't think any health club or gym requires a degree in personal training per se, if for no other reason very few colleges offer this as a major in the first place.
However, some gyms do indeed require a degree in a field related to exercise, such as one of the ones listed previously, in order to be a personal trainer at that particular facility.
However, if you want to be a personal trainer, you can find work at a gym easily, since most facilities do not require any college degree.
On the other hand, if you're hell-bent on working at a particular, prized facility, perhaps some upscale club that requires that college degree in an exercise-related field, and you think the experience of working at this posh club is worth the four-year grind (not to mention tuition) of college, then you need to go to college.
It's also entirely possible that you may be craving the college experience; dormitory life; partying; living on a campus, etc., and for that reason, you want to attend college, but since you desire to be a personal trainer, you may as well major in this area — if you can find a college that offers this as a major.
Of course, you'll also be required to take a slew of classes unrelated to exercise to fulfill basic requirements.
According to degreedirectory.org, the following colleges offer "personal training programs."
Ball State University, Cornell College, Iowa State University, Florida State University, Michigan University, Ohio State University, Texas University – Austin, University of Southern California Los Angeles.
Remember, a major in exercise physiology, physical therapy, exercise science, sports medicine, etc., is not the same as a major in actual personal training.
My advice is, if your dream is to be a personal trainer, then do what it takes to get a job as such at a health club that's big enough to get a lot of clients; health clubs, gyms and recreation centers are everywhere and are always in need of fitness professionals.
Many will hire you even if you don't have certification, but require you to get certified within 90 days of your hire date.
Certification study materials vary from one certifying organization to the next.
The exam may simply be a voluminous questionnaire, or, it may also involve hands-on mock-training sessions that you must pass.
You don't need to major in personal training to become extremely successful in this field.
Lorra Garrick has been covering medical, fitness and cybersecurity topics for many years, having written thousands of articles for print magazines and websites, including as a ghostwriter. She's also a former ACE-certified personal trainer for Bally Total Fitness.
.
Top image: Freepik.com