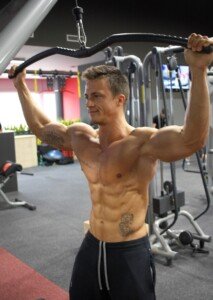 If you suffer a grade 2 AC separation and are a bodybuilding enthusiast, you can expect to eventually resume your workout regimen once your injury heals.
However, you must be patient. You must not rush back into the bench presses, dumbbell presses, overhead barbell presses, dips, etc.
"In general, ligament tears and sprains can take up to 12 weeks to heal," says Jonathan Oheb, MD, North Valley Orthopedic Institute, Chief of Orthopedic Hand and Upper Extremity Surgery.
Dr. Oheb adds, "I would recommend gradual progressive weight bearing after that."
This means using a very light barbell for bench pressing, and small dumbbells for chest and shoulder pressing.
How Much Weight Are We Talking Here?
Just how much weight you should lift, once you are cleared to do this (after completing physical therapy exercises) will be determined by your previous level of strength.
Have you ever sprained an ankle? This is a ligament injury.
If you've ever experienced this, you know how long a bad sprain can take to heal before you're running up and down hills again or sprinting across a parking lot in the rain without any discomfort or instability.
Even dashing up and down a single flight of stairs needs to be put on hold for a while.
And that's without an actual severing of the ankle ligaments.
In a grade 2 AC separation, the ligament is actually severed, separating one part of the clavicle from the other, leaving a gap there—and that gap is permanent.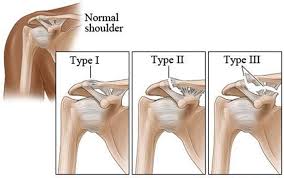 So you must be patient and not get ahead of yourself.
Sure, it stinks having to limit yourself to light weights, but in the long run you'll be glad that you did.
As a bodybuilder, you may even suffer some "deflation" of your physique.
But if you keep things in perspective, you will regain your pre-injury bodybuilding status despite having a permanent grade 2 AC separation.
In addition to hand, elbow and shoulder care, Dr. Oheb provides comprehensive surgical and nonsurgical treatment for all orthopedic conditions of the hip, knee and ankle, including broken bones and injuries. jonathanohebmd.com
Lorra Garrick is a former personal trainer certified through the American Council on Exercise. At Bally Total Fitness she trained women and men of all ages for fat loss, muscle building, fitness and improved health.