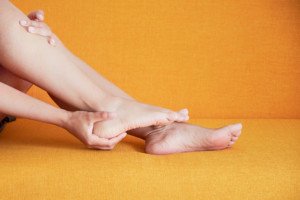 Are you suffering from pain in your ankle, heel or foot in general? Foot pain has many, many causes. Some are very serious, too.
The medical specialty that involves treatment of the foot is called podiatry.
A doctor of podiatric medicine (DPM) has completed four years of medical school and after that, has completed the required internships (as all medical doctors do), and then a residency in podiatry.
"Most foot, heel and ankle pain can be attributed to overuse," says Bruce Pinker, DPM, who specializes in sports medicine and surgery of the foot and ankle.
"Foot pain can often be due to bunion pain, or hammertoe pain (associated with a corn on top of the toe).
"Ankle pain is often due to a sprain or strain from too much activity, especially if running on uneven surfaces.
"Many ankle sprains occur while running or participating in sports or while walking and stepping off a curb irregularly or stepping into a pothole on the street.
"Heel pain is extremely common, often due to plantar fasciitis or a heel spur on the bottom of the heel bone.
"The pain is usually due to overuse, as the plantar fascia ligament is elastic in nature and will stretch and contract.
"When it contracts, after inactivity for as little as one to six or seven hours, it contracts and tightens, leading to difficulty walking.
"Usually, conservative treatment resolves heel pain, but some cases can be challenging.
"Physical therapy, orthopedic strappings, cortisone injections and custom-made orthotics often resolve the issue.
"Occasionally, shock wave therapy may need to be utilized, or even surgery, to address the condition."
Please visit the links below to read numerous articles on foot pain.
Dr. Pinker is with Progressive Foot Care, which provides state-of-the-art, full diagnostic testing and treatment of the foot. He's a professional foot and ankle health and wellness speaker who delivers many original seminars annually such as "Keep On Running."
Lorra Garrick is a former personal trainer certified through the American Council on Exercise. At Bally Total Fitness she trained women and men of all ages for fat loss, muscle building, fitness and improved health.
.
Top image: Shutterstock/ Elvira Koneva