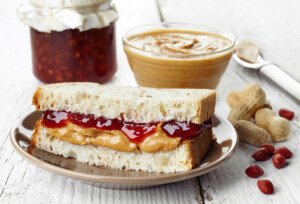 The truth about what's inside Oscar Mayer Bologna…
Whoa, moms…be careful when you select Oscar Mayer bologna over PB & J for your kids just because you saw a magazine ad showing some gleeful kid holding an Oscar Mayer beef bologna sandwich.
These ads state: "Our bologna has 75% less sugar than a PB&J."
In tiny print at the bottom of these Oscar Mayer beef bologna ads is nutrition information:
A peanut butter and jelly sandwich has 18 grams of sugar, and a bologna sandwich with fat-free mayonnaise has 4 grams of sugar.
Something's not right.
Two tablespoons of MaraNatha organic creamy peanut butter contains just 3 grams of sugar! (7 grams total carbohydrates).
Where does Oscar Mayer come up with 18 grams?
The company must have selected the most sugary peanut butter brand they could find, and then calculated based on what  — eight tablespoons?!
Many peanut butter brands have similar sugar content to MaraNatha for two tablespoons.
The Oscar Mayer ad then says that the PB & J sandwich has 18 grams of fat, of which 3.5 is saturated (the bad fat).
And that the bologna sandwich has 10 grams of fat, of which 4 grams is saturated.
Is Oscar Mayer boasting about this?
Because if 3.5 grams out of the PB & J sandwich is saturated (bad) fat, that means the remaining 14.5 grams of fat is the healthy, good kind of fat!
So what kind of fat, then, is in the remaining 6 grams of fat in the bologna sandwich?
According to the ingredients list, 4 grams is monounsaturated fat (good fat) and 1.1 grams is polyunsaturated (good fat).
One gram of fat is not accounted for, but this leaves a little over 5 grams of good fats…compared to the peanut butter's impressive 14.5 grams of healthy fats!
Peanut butter is from peanuts, not animals, so you know that the remaining 14.5 grams is healthy fat (natural peanut butters do not contain trans fats, which are man-made).
Yikes! Ingredients for Oscar Mayer Beef Balogna
"Beef, Water, Contains Less than 2% of Salt, Corn Syrup, Sodium Lactate, Flavor, Dextrose, Hydrolyzed Beef Stock, Autolyzed Yeast, Sodium Phosphates, Sodium Diacetate, Sodium Ascorbate, Sodium Nitrite, Extractives of Paprika."
What is "flavor"? Anyone? Sounds like calling an ingredient "flavor" is just a way of getting out of actually identifying it. Why doesn't Oscar Mayer want to identify this ingredient?
Sodium nitrate is a carcinogenic preservative. According to the World Cancer Research Fund UK and one of several studies, processed meat is linked to colon cancer.
Balogna, by Definition, Is Junk Food
"Bologna is a form of ultra-processed meat," says Shana Spence, MS, RDN, CDN, a registered dietitian nutritionist based in New York.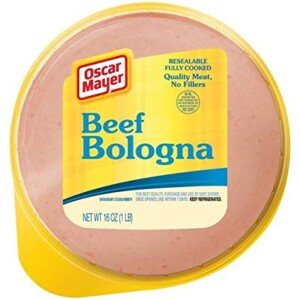 "Read the ingredients of the Oscar Mayer brand (mechanically separated chicken, pork and beef, not to mention corn syrup and a bunch of other preservatives)," continues Spence.
"We're unfortunately living in a time where we think meat protein reigns supreme (Keto diet, Atkins, etc.). So this may be where this misconception came from.
"Peanut butter and other nut butters are an excellent source of protein as well as healthy fat. Of course, always choose oil free and no sugar added!
"Peanuts in particular also contain important B vitamins as well as vitamin E and also minerals like magnesium, phosphorous, potassium, zinc and iron.
"Bologna really does not have any nutritional value except for protein — which again, can be received through other forms."
It's clear that the much healthier choice for a sandwich is the PB & J.
Here are the clean ingredients for Organic Principle's grape jam, and MaraNatha's peanut butter, respectively:
"Organic Concord Grape Juice from concentrate (Water, Organic Concord Grape Juice Concentrate), Organic Natural Milled Sugar, Natural Fruit Pectin, Ascorbic Acid, Citric Acid."
"Organic Dry Roasted Peanuts, Organic Palm Oil, Organic Cane Sugar, Sea Salt."
There's no escaping the sugar in either kind of sandwich.
But contrary to Oscar Mayer's bologna ads, a PB & J sandwich need not contain any more sugar than a bologna sandwich, unless your child takes three tablespoons of peanut butter for his PB & J sandwiches.
And even then, this won't come within a mile of the 18 grams cited in the Oscar Mayer bologna ads!
A health-conscious parent should consider organic, all-natural peanut butter and organic jams and jellies.
Even cheaper, non-organic versions are better for the body than bologna.
If your child insists on bologna, buy a brand that does not contain additives or preservatives. Such can be found at health food stores or at Whole Foods.
Shana Spence of The Nutrition Tea is committed to providing trending information and nutrition facts covering a wide range including nutrition for heart disease and diabetes, pediatric nutrition and healthful lifestyles.
Lorra Garrick is a former personal trainer certified by the American Council on Exercise. At Bally Total Fitness she trained clients of all ages for fat loss, muscle building, fitness and improved health. 
.
Top image: Shutterstock/baibaz
Sources:     theorganicprinciple.com;    worldpantry.com;  naturodoc.com/library/nutrition/MSG.htm; acaloriecounter.com/food/oscar-mayer-bologna-chicken-pork-beef-