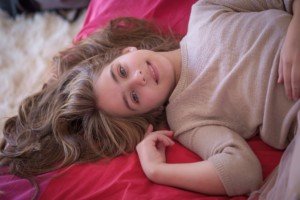 Yes, children, teens and young adults can develop a potentially fatal blood clot, also known as a deep vein thrombosis (DVT).
Even fit kids, under the wrong circumstances, can end up with this serious condition that demands immediate treatment.
Blood clots in kids (as well as adults) can break loose and lodge in the lungs, causing a life-threatening situation.
This is called a pulmonary embolism and can cause sudden difficulty breathing, and/or chest pain.
Young adults and children are not immune to DVT , which is a blood clot in a vein.
DVT stands for deep vein thrombosis. It's a clump of blood — a sticky thick network of blood cells — attached to the inner wall of a vein, obstructing blood flow.
"Kids and teens are treated for blood clots according by identifying the underlying cause of the blood clot," says Dr. Lisa Lewis, MD, a board certified pediatrician in Fort Worth, Texas, and author of "Feed the Baby Hummus, Pediatrician-Backed Secrets from Cultures Around the World."
"Typically, blood clots are treated with an anticoagulant [blood thinner] and sometimes aspirin."
Blood thinners would include heparin, or its low molecular weight version, given with warfarin (Coumadin), or just warfarin alone.
The INR blood work is taken on a scheduled basis so that the effect of the anticoagulant drug can be monitored to ensure it stays within therapeutic range.
"Although uncommon, a large percentage of blood clots in children and teens are inherited," says Dr. Lewis.
What if a child or young adult has an acute, large DVT?
A large deep vein thrombosis can completely obstruct flow of blood from a limb.
In this case, other medications may be used early on, such as a thrombolytic (clot-busting) agent. This would be followed by anticoagulant medications.
Long-term management of deep vein thrombosis (and pulmonary embolism) in kids:
1) The safe prevention of additional DVTs is emphasized
2) Management is designed to enable the young patient to function as normally as possible.

Having 20+ years' experience, Dr. Lewis completed her pediatrics residency at Texas A&M University Health Science Center, Scott and White Memorial Hospital. For two years afterward she was assistant professor in the department of pediatrics at Texas A&M University Health Science Center.
Lorra Garrick has been covering medical, fitness and cybersecurity topics for many years, having written thousands of articles for print magazines and websites, including as a ghostwriter. She's also a former ACE-certified personal trainer.
Source:
The National Alliance for
Thrombosis and Thrombophilia newsletter at stoptheclot.org/Newsletters/NATT_Spring_07_Nwsl__web.pdf