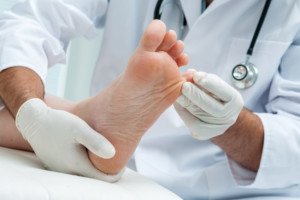 There's a very unsuspecting explanation for why sometimes feet hurt even though you haven't sprained or twisted anything or worn high heels.
Next time you think of showing your bare feet in public with flip-flops, heed the warning from a doctor that this kind of footwear can hurt your feet.
The more socialized form of health care in the UK makes it easier to track the source of hairline fractures and sprains in feet:
The National Health Service there estimates that $62 million are spent every year on the treatment of 200,000 flip-flop related injuries! That's a LOT of foot pain.
"There are limited statistics about injuries related to flip-flops because people aren't always certain an injury is directly related to wearing the sandals," says podiatrist (foot specialist) Dr. Alan Berman, DPM, of Somers Orthopaedic Surgery & Sports Medicine in New York.
Many people who wear flip-flops don't care that their feet and toenails are unsightly, but maybe what Dr. Berman has to say about foot pain will make them think twice about wearing flip-flops in restaurants, at work, gyms, church, classes and while shopping.
If you still think your feet are nice to look at, or if you don't care what people think, and thus you still intend on wearing flip-flops, at least take mind of Dr. Berman's tips to help prevent foot pain relating to "tongs."
Wear flip-flops only for short periods.
They offer no arch support, shock absorption or heel cushioning (says the American Podiatric Medical Association), and thus are beneficial only for basic protection from hot surfaces and in helping prevent athlete's foot in public showers.
If your feet have been hurting you lately but you don't recall tripping or twisting a foot during sport, consider it's because of wearing flip-flops for extended periods.
Furthermore, it's obvious that this type of footwear can make it easy to turn an ankle or stumble.
And you certainly can't run very hard if you find you have to make a mad dash (e.g., running across a parking lot in the rain).
Avoid sport in flip-flops.
Dr. Berman says, "People who ran or jumped in flip-flops and suffered sprained ankles, fractures, and severe ligament injuries have required surgery."
I see people wearing these things on hiking trails and while using cardio equipment!
Don't wear flip-flops to cut the grass.
For obvious reasons, avoid wearing them when doing yard work.
Flip-flops can cause a litany of foot problems.
The following foot ailments can result: plantar fasciitis (painful heels), hammer toe, shin splints and metatarsalgia (causes pain in the ball of the foot).
In order to prevent tongs from slipping off your feet, you must scrunch your toes with every step to keep a grip on the tong.
This disrupts the natural gait pattern of the foot, and has a ripple effect up the lower body:
Natural stride is shortened, preventing natural "locking" of the foot, forcing the leg and hip muscles to work harder (no, this is NOT the same as exercise!), resulting in suppression of other muscles. This chain reaction then leads to the aforementioned ailments.
Keep the rubber off the metal.
Flip-flops can actually lead to car accidents because they impair a driver's control if they come off the foot and lodge under the brake or gas pedal, according to the American Automobile Association. 
Make sure your driving footwear is not so loose that it pops off and interferes with the pedals.
Dr. Berman has been in practice for over 25 years and provides both surgical and state-of-the-art nonsurgical care to his patients.