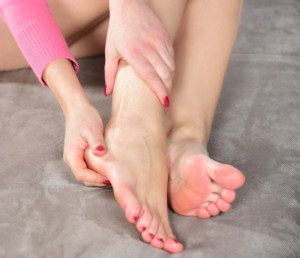 That heel pain that's been bothering you lately just may indeed be caused by a stress fracture.
"Fractures and bruises can create pain in the heel," says Bob Thompson, certified pedorthist, executive director of the Institute for Preventive Foot Health (IPFH.org).
A pedorthist is a medical professional who specializes in designing footwear and devices to alleviate foot pain.
What Is a Stress Fracture?
Quite simply, it is a tiny crack in a bone. The injured part of the bone is not severe enough to displace the bone; a cast is not required for healing. However, a walking boot or brace may be needed.
The bones of the lower leg and foot are the most vulnerable to a stress fracture. These, of course, include the heel area.
Physical activities that, in particular, can give rise to this kind of injury include jumping, running, basketball, volleyball, gymnastics and figure skating, among others.
But ANYONE can get a stress fracture.
Thompson explains, "The calcaneus is the primary bone in the heel. Although an actual fracture of the calcaneus is relatively rare, it can be very painful.
"A fracture occurs most often as a result of a severe blow to the heel area, such as a fall from a height or some other serious trauma. Calcaneus fractures are often serious, and need to be attended to quickly."
Thompson further explains, "Less severe stress fractures can also be responsible for heel pain, but are typically not as painful as more serious fractures.
"Bruises can also occur as the result of blows to the heel area, and while they can be painful, they are not as serious as fractures.
"Those who are particularly vulnerable to heel bruises are participants in sports that require repetitive jumping and landing on the feet.
"This includes volleyball, basketball and distance running."
Robert Thompson is a nationally recognized speaker on the topics of preventive foot health and soft tissue injury prevention.
Lorra Garrick is a former personal trainer certified through the American Council on Exercise. At Bally Total Fitness she trained women and men of all ages for fat loss, muscle building, fitness and improved health.
.
Top image: Shutterstock/KlaraBstock