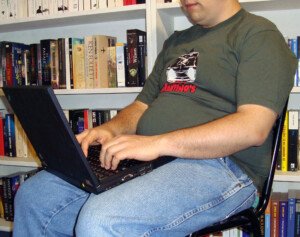 If you've been diagnosed with cancer but also have the "sitting disease," your risk of death by cancer goes UP.
The sitting disease is characterized by habitual inactivity – spending excessive portions of your days in a chair.
Even regular gym sessions have been shown to be ineffective at offsetting the sitting disease.
Cancer patients who are physically active have a lower risk of mortality from their illness, say researchers from Roswell Park Comprehensive Cancer Center.
They have identified an association between physical inertia and cancer mortality.
This link applies both to pre-diagnosis and post-diagnosis level of activity, spanning several different types of cancer.
None of this is surprising, being that more physical activity is strongly linked to a lower risk of several kinds of cancer.
Logically, inactivity, of which the sitting disease is one variation, would be tied to a higher chance of dying from an already-diagnosed cancer.
The Study sitting disease
• 5,807 cancer patients were enrolled in the Data Bank and BioRepository at Roswell Park (2003 to 2016).
• Patterns of physical activity over time were evaluated—spanning 10 years prior to diagnosis and continuing for up to 12 months following the diagnosis.
• Habitual activity refers to patients who were active (moderately to vigorously on a regular basis) before and after diagnosis.
• Patients who did not regularly exercise were considered to be habitually inactive.
The Results sitting disease
• Those who were "habitually active" were 40 percent more likely to survive when compared to the other group.
• This applied to cancer of the colon, prostate, breast, ovary, uterus, bladder, esophagus and skin.
• The patient's gender, tumor stage, whether or not they smoked and body mass index did not alter the findings.
"In other words, when it comes to exercise, something is better than nothing, but regular, weekly exercise seems to really make a difference," explains Rikki Cannioto, PhD, assistant professor of oncology in the Department of Cancer Prevention and Control, in the report.
"In fact, patients who were physically active three or four days a week experienced an even greater benefit than those who exercised daily," continues Cannioto, "and patients who had only one or two days of regular activity per week did nearly as well."
Shocking Discovery sitting disease
What about patients who, before their diagnosis were sedentary, but after the diagnosis took up exercise?
Their survival rate odds jumped to about 30 percent. This includes patients who committed to post-diagnosis exercise only once or twice a week.
The Sitting Disease
Cancer patients can get in more physical activity simply by sitting less, whenever possible. Stand or pace while on the phone, for instance.
Stand while opening snail mail, munching on a snack, conversing with someone in your home and during TV commercial breaks.
When using a computer, get up every 30 minutes and walk for a few minutes to break up the sitting time.
Lorra Garrick is a former personal trainer certified through the American Council on Exercise. At Bally Total Fitness she trained women and men of all ages for fat loss, muscle building, fitness and improved health. 
.
Top image: 55158656@N06, CreativeCommons
Source: newswise.com/articles/view/693057/?sc=sphn

sitting disease, cancer death